Overland Park — Just when Max Falkenstien thought he had enough sendoffs to last a lifetime, one more came his way Thursday.
On a night most dedicated to Kansas University's athletes, Falkenstien was honored again, presented with the Lifetime Service Award during the Jayhawk Senior & Scholar Athlete Banquet at the Sheraton Overland Park Convention Center.
Athletic director Lew Perkins presented Falkenstien with a crystal microphone, and a highlight reel of his career played after the night's lone standing ovation was directed toward him. Perkins also assured everyone that Falkenstien's familiar voice wasn't going away for good just yet.
"We're going to have a place for him on the football and basketball broadcasts," Perkins said.
Though Falkenstein received the loudest cheer, most of the two-hour event circled the accomplishments of KU's student-athletes. About 600 in attendance watched as cross country runner Joshy Madathil and women's basketball player Crystal Kemp received the night's biggest honor: The Robert Frederick Senior-Scholar Athlete of the Year award.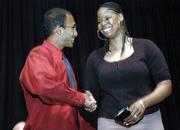 Frederick, who won an award, too, when the athletes gave him the Del Shankel Teaching Excellence Award, presented Kemp and Madathil with their honor, as associate athletic director Paul Buskirk listed the pair's accomplishments.
"They're such great kids," Buskirk said afterward. "This wasn't my decision or Lew's decision. We have an honors committee that does that. The coaches nominate their candidates, and the honors committee spent a lot of time working on this. It's always a tough choice."
The night, like any, had its light moments, too:
¢ The Prentice Gautt Big 12 Postgraduate Scholarship winners - soccer's Caroline Smith and men's basketball's Christian Moody - posed for pictures after receiving their honor. The height disparity alone caused chuckles - Smith is 5-foot-2 while Moody towers at 6-8.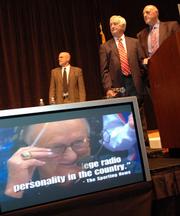 ¢ Emcee David Lawrence joked about the different eating habits among football players in his introduction. Among them were linebackers killing their own food and eating it raw, and cornerbacks not eating much "because it's hard to eat and talk at the same time."
¢ The best-dressed award unofficially went to football's Tim Allen, who was decked out in an all-white suit while most of his teammates stuck to shirts and ties.
But for Buskirk, the most numbing part of Thursday wasn't anything unique. It was the fact that 48 of KU's athletes were honored for having perfect 4.0 grade-point averages - about an average number for a particular year, but impressive nonetheless considering time commitments demanded of all of them.
"I still don't understand it," said Buskirk, in his 18th year as an athletic department administrator. "I hope I never understand it."
Copyright 2018 The Lawrence Journal-World. All rights reserved. This material may not be published, broadcast, rewritten or redistributed. We strive to uphold our values for every story published.