Lawrence High's Drew Huff liked Kim Jones a whole lot better when the two wore the same uniform last summer.
"It's way better when she's on my team," Huff said. "Then I can back her up if they hit her, instead of having to try to hit her."
Keeping up with Jones' heater proved to be a tough task for Lawrence, as the hurler led Shawnee Mission Northwest to 8-0 and 9-1 victories Tuesday at Holcom.
"I guess that riseball killed most of us," LHS junior Dequesne Sprow said. "I'll give her credit. She can throw it."
The SMNW junior gave a pair of complete-game efforts, striking out 20 in all.
After pitching a first-game shutout, Jones was almost better in Game Two.
The right-hander went five innings of no-hit ball before her former Kansas City Pride teammate ruined the party in the sixth.
Huff led off the inning with a smash into left field for the first Lion hit. Erin Miller followed with a single, and Lauren Kelly moved the runners with a groundout.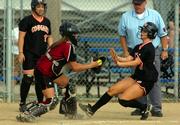 After a strikeout, Huff took matters into her own hands.
The senior made a mad dash towards home after Jones unleashed a wild pitch.
"I just wanted to get a run on the board for our team," Huff said, "and I love sliding head first."
Huff's reach made it just under the tag to make it 5-1. It would be the only Lawrence run of the day.
"In the second game, we should have been stronger," Huff said, "because we had gone against her at least four times each."
Sprow tried her hardest to keep the Lions in game one while facing one of the best-hitting teams in the state.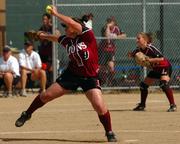 The hurler held Northwest scoreless in the first four innings before the Cougars broke through for six runs in the fifth.
"If we can get her pitching like that," LHS coach Reenie Stogsdill said, "we still have a chance to win regionals."
Like other recent outings, however, the Lions found themselves lacking production on offense.
"The bottom line is you can't win ballgames if you don't score runs," Stogsdill said, "and we had our troubles today."
Huff was the only Lawrence player with a pair of hits. The Lions combined for just seven hits in the two games combined against Jones.
"She's a really strong pitcher - one of the best in the state probably," Huff said. "We knew she was going to be tough coming out today."
It won't get any easier for Lawrence Thursday, as it will play host to top-ranked Olathe East in a make-up contest.
"It's not our favorite team to play on Senior night," Sprow said, "but it gets us prepared for regionals."
Copyright 2018 The Lawrence Journal-World. All rights reserved. This material may not be published, broadcast, rewritten or redistributed. We strive to uphold our values for every story published.