Members of the Free State High baseball team watched Saturday's game between Lawrence High and Blue Valley North, scouting the Lions before the city showdown Thursday at Hoglund Ballpark.
What they saw might have scared them.
The Lions played what left fielder Michael Sickinger called their "best game of the season" in a flawless 9-0 rout of the Mustangs at Ice Field.
"Everything just clicked today," Sickinger said. "We started off the game real well, and we kept producing runs every inning."
LHS didn't waste any time, scoring four runs in the bottom of the first on two-run singles by John Novotny and Sean Muder. It was one of the few times this season that Lawrence took a lead in the opening inning.
"When you get up early, it makes it a heck of a lot easier," LHS coach Brad Stoll said. "We did that and gave our pitchers some breathing room."
The Lions spread out the pitching Saturday in an attempt to save arms for the three games they are scheduled to play this week. Drew Hulse started and went two innings, allowing only a walk to the seven batters he faced. Daren Parker pitched the next three innings and kept the Mustangs scoreless on only one hit.
"Daren has really settled into that role of coming in and being a setup guy for us," Stoll said. "He's throwing his breaking ball and his changeup for strikes."
Photo Gallery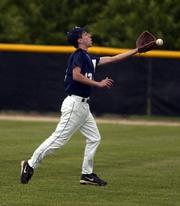 LHS baseball vs. Blue Valley North
Jordan Guntert preserved the shutout, pitching the final two innings. In all, the three pitchers allowed two hits.
"They threw strikes and let them hit the ball, and we made the plays," Sickinger said.
The effort included six of the nine starters getting hits and all nine starters getting on base at least once.
Muder was the only Lion who didn't score.
Brian Heere, batting leadoff for LHS, grounded out in his first two at-bats, but made up for it in his next two trips. He hit an RBI single in the third and followed up with an RBI triple in the fifth, finishing 2-for-4 with two RBIs in his last home game at Ice Field.
"I was pretty frustrated after rolling over twice," Heere said of his two groundouts. "I just went up there not worrying about anything and tried to hit the ball well and get a good piece of it."
LHS will play Tuesday at Shawnee Mission Northwest before the annual city showdown with the Firebirds on Thursday.
Copyright 2018 The Lawrence Journal-World. All rights reserved. This material may not be published, broadcast, rewritten or redistributed. We strive to uphold our values for every story published.