OK, so golf never will be the sport for which Gale Sayers is remembered.
That doesn't mean hitting the links can't help the former football great make a difference.
Sayers, perhaps the best known Kansas University football player of all time, was back in Lawrence on Friday to help organize and participate in the 13th annual Gale Sayers Golf Tournament. Money raised from the event will go toward multicultural scholarships in KU's School of Education.
"Whether it's minorities or regular students, they all need money," said Sayers, a running back from 1962-64 who later earned two degrees at KU. "Some people can't afford to come to KU and need some help with scholarships. We try to give them that."
More than 40 years after dropping jaws on the football field at KU, the reserved Sayers - nicknamed the "Kansas Comet" - remains an endearing figure in Lawrence. While warming up at the driving range Friday morning, he stopped frequently to sign autographs and shake hands.
He was applauded more than once before getting in his golf cart and zooming away for 18 holes, and he remains one of KU's most famous - and generous - alumni.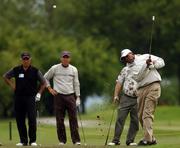 "It's really kind of a rally point for us," said Mike Neal, assistant dean of the School of Education. "If Gale Sayers says we can do this, and he's willing to put that much of an investment in believing in education and the School of Education at KU, then we have a lot of other alumni that say, 'That's good enough for me.'"
After seven years playing for the NFL's Chicago Bears, Sayers worked at KU in the 1970s while earning two degrees from the School of Education - a bachelor's in physical education in 1975 and a master's in educational administration in 1977.
Now living and working as a businessman in Chicago, Sayers since has put significant effort toward stressing the importance of education. It's expected Friday's events alone will generate close to $10,000 for scholarships.
"We also have a donor that anonymously said they're going to match our funds we raised today, up to $10,000," Neal said. "Our goal is to raise $10,000 to get that matching fund."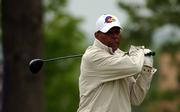 About 70 people played in Friday's golf tournament, and even more were expected to stop by Alvamar Country Club afterward, where a get-together and a silent auction of sports memorabilia were held.
Among those in attendance were former KU athletic director Bob Frederick and former football players Pat Henderson, John Mosier and Bobby Skahan, who was quarterback during Sayers' final year at KU.
Skahan still marvels over what Sayers did on the football field back in the day. Those who saw Sayers run at both the college and pro levels compare him to modern-day stars like Barry Sanders or, perhaps, Reggie Bush.
Sayers is quick to say his golf game isn't as dazzling. But considering the carrot dangling in front of him Friday - raising money for education and particularly for minorities like himself - Sayers certainly was willing to hack away for a good cause.
"I still like to try to do well," Sayers said. "We knock the ball around. Most of us still try to do as well as we can."
Go figure
2,675 Career rushing yards by Gale Sayers at Kansas University from 1962-1964
3,917 Sayers' career all-purpose yards at KU
1966, '69 Years Sayers led the NFL in rushing (1,231 and 1,032 yards)
4,956 NFL rushing yards by Sayers in seven-year NFL career
34 Age at which Sayers was inducted into NFL Hall of Fame (youngest inductee ever)
$10,000 Estimated funds raised by the Sayers tournament Friday for KU School of Education scholarships
Copyright 2017 The Lawrence Journal-World. All rights reserved. This material may not be published, broadcast, rewritten or redistributed. We strive to uphold our values for every story published.