Topeka — "Lock and load," joked Rep. Paul Davis, a Democrat from Lawrence.
Qualified Kansans will be able to carry concealed guns as early as January under a bill put into law Thursday despite Gov. Kathleen Sebelius' veto.
The quick draw by the Legislature took only moments and came with no debate as the Senate overrode Sebelius 30-10 on Wednesday evening, and the House piled on 91-33 Thursday morning. Both votes surpassed the two-thirds majorities needed to overcome a veto.
"In some ways it's anticlimactic after 14 years of work," said Senate sponsor Phil Journey, R-Haysville.
Leaning against a rail outside the House chamber, Journey, wearing a National Rifle Assn. pin and gun-shaped tie clasp, said: "I'm elated at the same time. I think it's good public policy. Kansans are going to be safer."
Opponents of the bill, including Davis, disagreed.
"I don't think putting more guns in the hands of people in public places is going to lead to greater public safety," he said.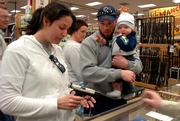 The override ended years of political wrangling. Gov. Bill Graves vetoed concealed carry in 1997, and Sebelius in 2004.
This time, however, the veto didn't stick.
Journey said he thought that was because concealed carry had a track record of working in nearly every other state in the nation. Only Illinois, Nebraska and Wisconsin won't allow residents to carry hidden guns.
Under the bill, Kansas residents 21 or older with no criminal background or history of mental illness or drug abuse could obtain a four-year permit after completing an eight-hour training course.
The law takes effect July 1, but it will take several months to ramp up the administrative process to grant permits. The first permits are expected to be issued in January 2007. Those receiving permits must pay a $150 fee.
Sebelius vetoed the measure Tuesday, saying it would endanger the public and law enforcement.
Rep. Candy Ruff, D-Leavenworth, the House sponsor, said Sebelius was wrong.
"It doesn't make Kansas any less safe now. That's kind of an insult to law-abiding Kansans," Ruff said.
After the House vote, Ruff said she had three telephone calls to make: the first to her husband, and the others to two constituents who were raped and wanted to be able to carry a gun.
Ruff said the law gives Kansans a choice.
"If somebody feels a need or is compelled for their own individual reasons to carry a concealed firearm, now they can do so, if they are law-abiding citizens," she said.
She said she doubted it would have an effect one way or the other on the crime rate.
But Journey said it would.
"Many criminals are rational human beings, and when they realize there is a good chance that they could get shot committing a violent crime, they'll probably decide to do something else," he said.
One aspect of the law that didn't get much notice is that it will pre-empt hundreds of local ordinances regulating guns.
"Cities have been regulating firearms in Kansas before the state became a state," said Kim Winn, director of policy development and communications for the League of Kansas Municipalities. "The earliest one we found on the books is from 1863 in the city of Lawrence."
But Winn said cities would have to repeal those ordinances.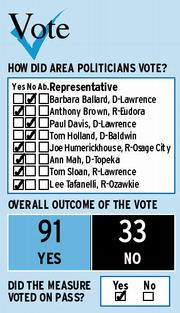 Journey said it wouldn't be difficult to comply.
"The sky is falling for Chicken Little and the league," he said.
Interim City Manager David Corliss said Lawrence would have to get its ordinances in compliance with the impending state law.
"We're going to need to look at it," he said.
Sebelius urged legislators to put the issue behind them now that it has been resolved.
"Now I'm hopeful the Legislature turns its attention to its most important work, which is making sure all Kansas children attend quality schools," she said.
Where people with guns won't be allowed to go
People with permits will not be able to carry concealed weapons into: ¢ A place in which a common nuisance activity is maintained (illegal gambling, promotion of obscenity, promotion of prostitution, and violations of drug, alcohol and tobacco laws). ¢ A police, sheriff or Kansas Highway Patrol station. ¢ A detention facility, prison or jail. ¢ A courthouse. ¢ A polling place on election day. ¢ A meeting of the governing body of a county, city or other subdivision. ¢ Any city hall. ¢ A courtroom (unless the licensee is a judge or unless authorized by the judge). ¢ A school, community college, college, university or professional athletic event not related to firearms. ¢ Any portion of a drinking establishment, although restaurants are not included. ¢ The Kansas State Fairgrounds in Hutchinson. ¢ Any state office building. ¢ Any community college, college or university facility. ¢ Any elementary or secondary school building or structure used for student instruction or attendance. ¢ Any place where the carrying of firearms is prohibited by state or federal law. ¢ Any public library operated by the state or any political subdivision. ¢ Any day care home or any group day care home as defined in state law. ¢ Any church or temple. ¢ Any child care center or preschool. ¢ Any child exchange and visitation center. ¢ Any community mental health center or state hospital. The bill would not prevent public or private employers or businesses open to the public from prohibiting licensees from carrying concealed weapons while on the premises of the business or while engaging in duties of employment. Businesses that are open to the public would have to post signs stating that carrying a concealed weapon on the premises is prohibited. Property owners would be authorized to restrict or prohibit concealed weapons by posting notices.
Copyright 2018 The Lawrence Journal-World. All rights reserved. This material may not be published, broadcast, rewritten or redistributed. We strive to uphold our values for every story published.