Auburn Hills, Mich — Julian Wright started the Big 12 Conference tournament with butterflies.
He ended it viciously - with a 360-degree highlight-reel dunk against Texas that had even the most lethargic of fans jumping out of their recliners.
Five days later, Wright and Kansas University's basketball team hopes Sunday's exclamation point is followed by another sentence demanding such punctuation.
KU will take on Bradley at 8:30 tonight in the first round of the NCAA Tournament. Wright will be in the starting lineup, intent on starting a six-game tournament winning streak one at a time.
The freshman from Chicago Heights, Ill., hopes the jitters of last week's conference tournament in Dallas have passed, though he said the magnitude of March Madness wasn't lost on him.
"It gives you chills just thinking about the game in anticipation of it," Wright said. "But we're loose, and we're confident and focused."
Still, plays like Sunday's flush - done in the closing minutes of KU's 80-68 championship victory over the Longhorns - has viewers tuned in to see what Wright does next.
"He's had a lot of nice dunks in practice," KU guard Stephen Vinson said. "But I've seen him miss a lot of nice dunks, too. It was nice to see it go down."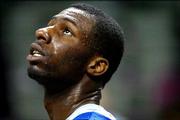 Wright isn't trying to be all flash, but if it helps KU win games - either directly by putting up points or indirectly by charging up his teammates - Wright's willing.
Thursday, Wright had another highlight-reel dunk in KU's open practice at The Palace of Auburn Hills. During a crowd-motivated dunkfest, Wright did a variation of Michael Jordan's famed rock-the-cradle jam, recently imitated by former Jayhawk Drew Gooden in a 2001-02 game.
But Wright isn't all about show: His performance is felt all over the stat sheet. In three games in Dallas, Wright had 28 points, 17 rebounds, six assists, six blocks and five steals. He's averaging 8.6 points and 4.6 rebounds on the season.
"Julian's come a long way," KU coach Bill Self said. "He has so many basketball skills that most 6-8 guys don't possess. "The problem he has is, when he's not playing quite as well, he thinks sometimes making a great, great, great play makes up for three or four not-so-good plays. He's got to have a reason to take fewer chances.
"I really feel like, in the last month of the season, he's done a pretty good job of that. He makes great plays, but he's making more good, solid plays than he was a couple of months ago."
It all culminates with the NCAA Tournament, a known final destination for some time, but one that still puts stars in Wright's eyes.
"Our record is 0-0," Wright said. "We've got to go out there and try and win at all costs now."
Copyright 2017 The Lawrence Journal-World. All rights reserved. This material may not be published, broadcast, rewritten or redistributed. We strive to uphold our values for every story published.