Auburn Hills, Mich — Kansas University's basketball players leisurely shot jumpers and held a brief dunk drill during their NCAA-mandated shootaround Thursday at The Palace of Auburn Hills.
That low-key session - which was scheduled for 40 minutes, but lasted under 30 minutes - followed a rigorous, one-hour, 25-minute practice at the Detroit Pistons' practice facility.
"There was a lot of yelling and screaming by coach (Bill) Self, getting on us about mistakes," sophomore guard Russell Robinson said of the first practice of the day. "It was not easy. The red (scout) team, playing Bradley, was real intense. They were energetic running Bradley's stuff. How you practice is how you play."
"It was tough. I thought it'd be a lot shorter, just going up and down," sophomore C.J. Giles said. "He (Self) was on us."
Self agreed the practice was a good one.
"We tried to get after it," Self said. "We go the same every day. Our approach today was no different from preparing for a midseason game."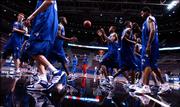 Self was much more calm at The Palace. He whistled as he sat on the bench, asking freshman Brandon Rush, "Who is your roommate on the trip?"
Rush responded, "Sasha."
"Hey, Sasha," Self asked, "you a bad roommate?"
"Yes I am, coach. I kept him up all night," the sophomore center said with a grin.
KU's players met at midcourt, concluding the shootaround with the chant, "1-2-3, national champs." During the regular season, the Jayhawks ended each practice with, "1-2-3, Big 12 champs.'''
Copyright 2018 The Lawrence Journal-World. All rights reserved. This material may not be published, broadcast, rewritten or redistributed. We strive to uphold our values for every story published.