Kansas City, Mo. — No. 6 Texas cruised past No. 19 Oklahoma late Sunday afternoon, and a zany, wacky and sad Big 12 Conference regular season finally came to a close.
The conference may be just 10 years old, but there's never been a season so packed with newsworthy events.
Texas Tech coach Bob Knight, for the first time in more than 30 years, actually lost more games than he won.
Oklahoma State's Eddie Sutton, the league's other coaching icon, wrecked his car and then announced he was entering alcohol rehabilitation. A grand career may have been brought to an embarrassing end.
Missouri accepted coach Quin Snyder's resignation and then stumbled around and looked so ridiculous the school has actually ordered an ongoing independent investigation of itself.
In the meantime, some gritty kids at Baylor seemed to define the word dignity all by themselves. And at Kansas University, an unselfish collection of freshmen and sophomores proved once again that championships are sometimes won without a superstar in sight.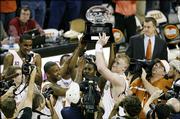 Texas and No. 18 Kansas tied for the league championship with 13-3 records, with the Longhorns gaining the No. 1 seed in this week's conference tournament by virtue of their 25-point home blowout of the Jayhawks. No. 19 Oklahoma (11-5) is the No. 3 seed.
No. 4 seed Texas A&M; is enjoying one of its greatest seasons ever. The Aggies have never won a Big 12 tournament game, but they've locked up a first-round bye on the strength of their seventh victory in a row, a 75-59 conquest of Texas Tech on Saturday that put them at 10-6.
In the first round Thursday, No. 8 seed Texas Tech plays No. 9 seed Kansas State. No. 5 seed Colorado goes against 12th-seeded Baylor. No. 7 seed Oklahoma State goes against No. 10 seed Iowa State and No. 6 seed Nebraska faces No. 11 seed Missouri.
Knight's Red Raiders are 14-16 overall and 6-10 in the league, a historically bad year for the hall-of-fame coach with the three national championships. They could become the first Knight-coached team to miss the postseason since his 1976-77 Indiana Hoosiers. Knight hasn't had a team finish the regular season below .500 since his Army team of 1970-71.
"We've been a team that's really struggled all year," said Knight, whose team has lost four in a row. "And the struggling hasn't stopped."
Beating Texas Tech gave the Aggies 20 wins and probably locked up an NCAA tournament bid.
"I think we were already in," said coach Billy Gillispie.
Missouri started 2-1 in the conference season, but Snyder resigned in February one day after saying he would stick it out. University system president Elson Floyd has now asked for an independent investigation into what Snyder was told and by whom just prior to his resignation.
Beating Nebraska 64-63 Sunday enabled the Tigers to escape last place.
"Nothing against Baylor, but being in last place behind Baylor is kind of embarrassing,"said Missouri's Thomas Gardner.
Sutton, in the meantime, will be watching his Oklahoma State Cowboys from afar after taking a medical leave of absence following his traffic accident. Sutton has said he would enter alcohol rehabilitation after he recovers from back surgery. Sean Sutton will take over full time next year if his dad does not return.
The most bizarre situation in college basketball the first half of the year belonged to Baylor. The Bears were banned from playing any nonconference games because of NCAA violations committed by former coach Dave Bliss. But they recovered well enough when they finally did get to play, they won four conference games.
"Listen when I say that Baylor team is going to be heard from next year and in the coming years," said Kansas coach Bill Self. "There's a lot of talent there."
Leading the Longhorns to their share of the crown were P.J. Tucker and LaMarcus Aldridge, along with several other experienced hands. Kansas rode its way to its sixth Big 12 title starting three freshmen and two sophomores.
"From my standpoint, this was sweeter than any of the other (league titles) I've had, because we started 1-2," Kansas coach Bill Self said.
"We were 1-2, we weren't very good and guys got confidence, guys grew up and we got good late. So with me, I have more pride with a team that's not expected to do it."
Copyright 2018 The Associated Press. All rights reserved. This material may not be published, broadcast, rewritten or redistributed. We strive to uphold our values for every story published.