Manhattan — Kansas University's basketball players and coaches took great pride in the Jayhawks' 31-game winning streak against Kansas State.
So did the fans.
"I've been getting a lot of e-mails from people saying, 'Go get the 'Cats. Kill them.'" KU senior Jeff Hawkins said Friday. "Everybody wants us to go down there and pay them back 'cause they beat us in the fieldhouse."
The Jayhawks, who fell to their in-state rivals, 59-55, on Jan. 14 in Allen Fieldhouse - KU's first loss in the series since 1994 - will meet the Wildcats in a 3 p.m. rematch today in Bramlage Coliseum.
"It was kind of sad to come in as a brand-new team and end a streak like that," KU freshman Brandon Rush said. "We'll try to build it back up one game at a time."
In the streak-buster, KU held a 12-point second-half lead before seeing it disappear down the stretch.
"We were all disappointed just because we played a good game, except the last four minutes," sophomore Russell Robinson said. "There was a lot of responsibility on our backs and we let the fans down. We'll try to redeem ourselves tomorrow (today)."
In a strange twist, the Wildcats (15-11 overall, 6-9 Big 12 Conference) also are seeking redemption against the Jayhawks (21-7, 12-3).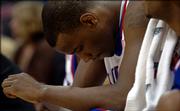 KU has won 22 straight games in Manhattan - 17 straight in Bramlage and five in old Ahearn Fieldhouse.
"I didn't even know about that," Robinson said of the 22-game streak, KU's last loss at KSU a 58-57 decision Jan. 29, 1983.
"We don't want worry about any streak," Hawkins said. "The years before my time were the ones that helped that streak grow."
KU coach Bill Self is not using the 22-gamer as motivation.
"The streak from a coach's perspective is so overrated," Self said, "because what's happened with that deal where one team beats the other 31 times in a row will never happen again - at least in our lifetimes.
"It's an unbelievable thing. We haven't put much if any emphasis on that at all."
Same at K-State.
"It has no impact whatsoever on what's going to happen in the game," KSU coach Jim Wooldridge said.
"We have a lot more positive motivation to play this ballgame than what happened in 1983, '84, '85. We're playing good basketball and will be playing a great team."
KSU standout Cartier Martin, who had 14 points in the Wildcats' comeback victory at Allen Fieldhouse, said: "I'm not even concerned about it, but it would be a big deal (breaking streak).
"It's going to be a big night for us. It's our Senior Night, and our guys are going to be really excited to play. We've just got to play like we did at their place."
The Jayhawks figure to be equally enthused, considering a victory would assure at least a tie for the Big 12 regular-season championship. Texas, also 12-3 in the league, will play host Sunday to 11-4 Oklahoma.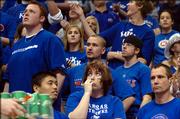 "The Big 12 Conference title, that's the first priority," Hawkins said. "We're trying to get a piece of that Big 12 title.
"We're just thinking about getting one more victory. It is the rivalry thing, the Big 12 thing and leading into the Big 12 Tournament (on a positive note) thing. All that factors into it," Robinson said.
If the Jayhawks lose today, they still could claim a piece of the league crown if OU stops Texas. KU would prefer to take care of business on its own.
"I think playing K-State, who beat us the first time, is enough incentive," Self said. "The fact we have a league title possibility on top of that makes it a game of great importance not only for us, but K-State, too. Sweeping Kansas would be a great feather in K-State's cap, and us winning over there, when teams are much more evenly matched this year, would be a feather in our cap."
Copyright 2018 The Lawrence Journal-World. All rights reserved. This material may not be published, broadcast, rewritten or redistributed. We strive to uphold our values for every story published.