In response to the threat of criminal charges hanging over them, the owners of a local used-appliance shop are adopting an unusual tactic: They're throwing a party, complete with gourmet roadkill.
Owners of the Yellow House store - who have been under police scrutiny since late last year, suspected of running a fencing ring - are planning an open house from noon to 4 p.m. Saturday with free food for the public. They said their attorney, Sarah Swain, will be on hand to answer questions.
Owners Guy and Carrie Neighbors said the purpose is to thank people who have supported them, and to show that they're not ashamed of their business.
"This is so stressful, you just wouldn't believe," Carrie Neighbors said of the ongoing investigation. "I don't know who to trust and who not to trust."
On Dec. 2, Lawrence Police raided the store and the Neighborses' home at 1104 Andover St., with assistance from the IRS, postal inspectors and the Douglas County Sheriff's Office. At the time, police said it appeared to be one of the largest, most sophisticated fencing operations they'd seen.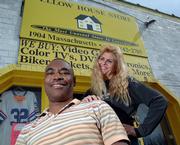 As of Wednesday, no charges had been filed. Dist. Atty. Charles Branson has said the case involves "tens of thousands of dollars" of questionable sales, some of them made via the Internet.
The Neighborses - who maintain that they've done nothing wrong - have put up signs in their window warning customers that they don't buy stolen property. Another sign in the window, directed at police, says that store employees aren't authorized to talk to investigators and refers questions to attorney Swain.
The Neighborses said they wanted to thank friends and customers who continue to buy and sell at their store. One such friend is Mike Coffman, a professed "roadkill master chef," who plans to cook a stew made of elk and road-salvaged venison as a contribution to the event.
"They're not fencing anything," he said.
Barbecued chicken, roasted pork loin sandwiches, taco burgers and beans also will be on the menu.
The Neighborses said they threw a similar party after a legal ordeal in the mid-1990s in which Carrie Neighbors was convicted of selling illegal martial-arts throwing stars at the store. Shortly after her conviction, Neighbors complained that a similar item was cleared to be sold at the Douglas County Fair.
Sgt. Dan Ward, a Lawrence Police spokesman, said the current investigation of the store was put on hold temporarily after the shooting last month outside The Granada, 1020 Mass., but that officers are again actively following leads and writing reports.
As for the party, Ward said he had no problem with it as long as it wasn't breaking any laws.
"I hope they have a good time," he said.
Copyright 2018 The Lawrence Journal-World. All rights reserved. This material may not be published, broadcast, rewritten or redistributed. We strive to uphold our values for every story published.