Lawrence police removed several boxes of items from a west Lawrence home Friday afternoon and searched a downtown retail shop as part of an investigation into a suspected stolen property fencing operation.
"Early indications reveal this is one of the largest, most sophisticated fencing operations we have seen in Lawrence," police Sgt. Dan Ward said.
As part of the investigation, police executed two search warrants: one at the home, 1104 Andover St., and the other at Yellow House Store, a resale shop at 1904 Mass.
"Basically, we recovered what we believe to be stolen property," said police Sgt. Tarik Khatib, while outside the home.
Khatib said police have not made any arrests in the case.
"We've talked to the business owners, and they are free to go pending further investigation," he said.
Officers will examine the items recovered and try to determine to whom they belong, Khatib said.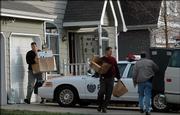 Ward said the search warrants were the result of a two-month investigation into the possible purchase of stolen property and the sale of the items in Lawrence and on the Internet.
The Internal Revenue Service, U.S. Postal Inspector's Office and Target Corp. have helped police during the investigation, officials said.
Khatib said the Yellow House Store owners live at the house that was searched. At 4:30 p.m. Friday, a closed sign was on the store's door. Efforts to contact the owners were unsuccessful. Repeated phone calls to the store Friday resulted in a busy signal.
More than 10 officers pulled up and began to search the house. They loaded most of the boxes into an unmarked white van. The Douglas County Sheriff's Office, the IRS and the postal inspector's office also assisted with Friday's search, Khatib said.
Khatib said that the house probably would not be returned to the owners Friday as officers continued their investigation.
County records show the owner of record for the house is Guy M. Neighbors. It wasn't immediately clear if he was a resident of the home.
Copyright 2018 The Lawrence Journal-World. All rights reserved. This material may not be published, broadcast, rewritten or redistributed. We strive to uphold our values for every story published.