Elephants aren't dinosaurs, but they're close enough for Brian Platt.
The Kansas University doctoral student took his research to the Topeka Zoo on Monday where he called on Tembo, an 8,000-pound African elephant, to be his guinea pig.
"It is kind of crazy," he said of his research. "No one's tried it before."
Tembo's only chore was to walk across a sandy path, enticed by the occasional carrot.
Platt measured Tembo's footsteps - hoping the study of her tracks in the sand can help him formulate an equation. He wants to find a way to determine the amount of moisture present in prehistoric soil by studying a dinosaur's tracks.
With enough data, researchers could track moisture and precipitation at various points in prehistoric times, Platt said.
And while Platt's primary focus is measuring the moisture of the soil, he and others believe the research could also have implications for the study of climate change.
"The more we know about this environment in which the dinosaurs lived, the better idea we can have about where we may be heading," said Robert Goldstein, chair of KU's geology department. "This would be one very small piece of the puzzle."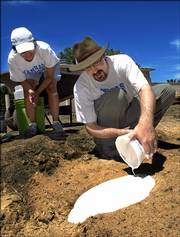 Platt is a recipient of the Madison and Lila Self Graduate Fellowship for exceptional doctoral students.
His current study arose out of questions raised while defending his master's thesis.
In his research on dinosaur tracks in Wyoming, Platt found that the prints varied. He knew that had some relation to the squishiness of the soil and the composition of the sediment. He devised a way to measure the soil moisture.
And that brought him to Tembo. Elephants are the closest surviving comparison in terms of size, gait and the arrangement of bones in their feet to sauropod dinosaurs, Platt said.
Platt could have created a contraption to make prints in soil, but that wouldn't have mimicked the curvatures and complexity of an animal's feet, he said.
Zoo officials welcomed the research, which had to be approved by the zoo's director, the elephant supervisor and others.
"We look at the zoo as a great living laboratory to come and study animals," said Michael Coker, the zoo's director.
Crews dug a trench and filled it with sand. They called on Tembo, a resident female elephant known for being laid back and motivated by food.
With a few carrots and just a bit of coaxing, Tembo walked the path. Platt later filled in Tembo's tracks with plaster to measure them.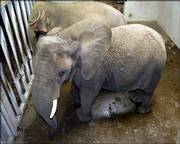 His research will continue as he takes into account numerous variables, including the weight of the animal, speed, the volume of the footprint and sediment size.
It's new territory, Platt said, but he's emboldened by the support he's received so far. The research is supported by the Geological Society of America, KU's Biodiversity Research Center and KU's geology department.
"I was able to convince enough people that it would work to get money to do the project," Platt said.
And Tembo also walked away a winner, said Daniel Shute, the zoo's elephant keeper and trainer.
"She got a carrot."
Copyright 2018 The Lawrence Journal-World. All rights reserved. This material may not be published, broadcast, rewritten or redistributed. We strive to uphold our values for every story published.