Nick DeBiasse plans to take every precautionary measure needed to play football this fall, but only to a point.
"If you're worried about getting hurt, that's when you're going to get hurt," DeBiasse said. "If something happens, it happens. It's really out of your control."
DeBiasse, a Lawrence High linebacker who earned first-team All-Sunflower League honors as a junior last season, is recovering from a baseball-related injury.
DeBiasse suffered a lower back stress fracture in the Lions' home baseball opener April 1. He was on the mound, making his first career start as a pitcher.
"Fatigue set in and mechanics might have broken down," DeBiasse said. "It felt more like a tightness at the time. It wasn't one specific moment, but it just built up."
Since then, DeBiasse has been doing everything he can - conditioning, weightlifting and abdominal work - to prepare for the football season. He said he would report for the opening of practice on Aug. 14, and that's good news for coach Dirk Wedd, who faces a major rebuilding job after losing 24 seniors off a Class 6A state playoff team.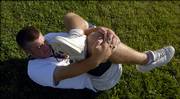 "He needs to see the doctor again," Wedd said, "but from all reports we have from his doctor, he's making great progress, and he can hopefully start doing a little bit more next week. He'll be OK."
DeBiasse has been in two physical therapy sessions of more than four weeks each. Doctors placed his back in a brace earlier in the summer. He plans to start lifting weights again soon.
When he returns to the field, DeBiasse will assume the role of graduated senior Scott Penny, playing tight end on offense and linebacker on defense. Last year he was a linebacker and an offensive lineman.
"We feel like we need to have one of our top two or three players there because we run the football so much," Wedd said of DeBiasse playing tight end.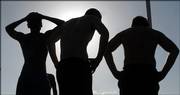 DeBiasse attended LHS morning workouts on Thursday, but did not take part in conditioning drills. He stretched with the team. DeBiasse is scheduled to see a doctor today for further treatment.
Wedd is also optimistic about a full recovery by Paul Finch, a starting lineman who suffered a season-ending knee injury early in the second game of the '05 campaign against Olathe North.
"His conditioning is not where it needs to be," Wedd said of Finch. "Strength-wise, he's OK."
Finch was given clearance to work out in March, and has lifted more than 400 pounds in the squat and 250 in the clean-and-jerk. Wedd lists Finch as a key returnee.
LHS player Nick Debiasse on his recovery
"He'll make a big hit, and everyone around him will feel a lot better about themselves," Wedd said.
The Lions' season opener will be Sept. 1 against Olathe North at Haskell Stadium.
Copyright 2018 The Lawrence Journal-World. All rights reserved. This material may not be published, broadcast, rewritten or redistributed. We strive to uphold our values for every story published.