Kansas University's men's basketball team just might be the best unranked squad in the land.
"I wouldn't want to play Kansas right now. Them boys : them boys are tough right now," KU freshman guard Brandon Rush said after scoring a career-high-tying 24 points - two coming off a highlight-reel reverse dunk -in an 86-52 rout of Bob Knight's Texas Tech Red Raiders on Monday night in Allen Fieldhouse.
The Jayhawks (14-6 overall, 5-2 Big 12 Conference) received just five votes in the AP poll and seven in the coaches' poll this week.
They have rattled off 11 victories in their last 13 games, the only losses a home setback to Kansas State, in which the Jayhawks blew a 12-point lead, and a loss at Missouri, in which KU squandered a seven-point lead in the last 39 seconds.
"What are we, third in the league, second? That's pretty good. We're proving a lot of people wrong right now," Rush said.
The Jayhawks are tied for second in the Big 12 with Colorado, just a half game behind 5-1 Texas.
KU also has one of the hottest players in the conference in Rush, the 6-foot-6 Kansas Citian who, with 11 rebounds, recorded his second double-double in a row and third of the season. It marked the 16th time he has scored in double figures and sixth time he has led the Jayhawks in scoring.
Photo Gallery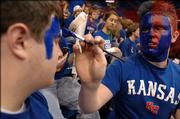 KU vs. Texas Tech
While awaiting a postgame interview with coach Bill Self on ESPN2, Rush was serenaded with chants of "three more years," from KU's student body.
"Nah, I didn't hear it," Rush said. "That's a long time, dealing with school, too. I'm not the smartest kid."
"The kid is having the time of his life. I think we should let him enjoy this time," Self said, adding, "We said all along if he plays so well and that (turning pro) happens, then we benefited from it. He hasn't once hinted at anything but focusing in on what's happening now."
And what's happening for Rush is pretty special. His 14.6-point average ties him with Danny Manning for the highest scoring average by a freshman in KU history.
"I'm proven I can shoot pretty good and take my man off the dribble, and I'm helping the team get rebounds," Rush said.
So much so he could be a candidate for, say, first-team all-Big 12 or freshman of the year.
"Something, I don't care what," Rush said. "I'm just worried about Kansas winning right now."
He wants to see his reverse slam on ESPN's highlights.
"I'm trying to make the top 10," he said of nightly top-10 SportsCenter plays of the day. "Jul (Wright) made it this year. I'm trying to get on the top 10."
Wright missed a dunk, as did Mario Chalmers on a night the Jayhawks breezed to a 43-25 halftime advantage and, well in front, tried a lot of fancy plays.
"He was trying to make the top 10, too. His is going to be on bloopers," Rush quipped of Wright's dunk miss. "Mario didn't miss his. He got his blocked."
The Jayhawks used three significant runs to bury the Red Raiders (11-10, 3-4).
Rush scored five points and Sasha Kaun four in a 15-4 game-opening run. Rush had five points and Christian Moody four, while six Jayhawks in all scored in an 18-2 run that increased a 25-18 lead to 43-20.
Finally, Rush had seven straight points and Darnell Jackson four in a 14-0 run that gave KU a whopping 70-40 lead.
The only drama was whether KU would hand Tech its worst loss of the year - Syracuse beat the Raiders by 35 this season, while Texas also beat Tech by 34 - and worst in the KU-Tech series. The Jayhawks beat Knight's Raiders by 40 points in the 2002 Big 12 tournament.
"We played well. We shot the ball well," Self said after KU hit 50 percent of its shots for the fifth straight game. "We shouldn't get too carried away. We caught a tired Tech team tonight."
The Raiders, who won an overtime game over Oklahoma State on Saturday in Lubbock, Texas, were led by Jarrius Jackson, who had 17 points but missed 12 of 19 shots.
Once again, Russell Robinson (six points, six assists) was the defensive whiz, handling Jackson as he did Curtis Stinson in KU's victory Saturday at Iowa State.
"This was tougher because they set so many screens," Robinson said.
Freshman Dior Lowhorn was the only other Raider in double-figure scoring with 12.
"I didn't think it'd be like this," Rush said of the final score, "but I thought we'd win because their guards : they didn't have any subs. We were gonna run them up and down, and they got real winded."
KU now has several days to rest. The Jayhawks don't play again until Sunday's noon battle against Oklahoma at Allen Fieldhouse.
Copyright 2018 The Lawrence Journal-World. All rights reserved. This material may not be published, broadcast, rewritten or redistributed. We strive to uphold our values for every story published.