Somewhere between Kansas University's overtime loss to Missouri two weeks ago and Monday's 86-52 romp of Texas Tech, the Jayhawks found a badly needed life jacket.
And now, slowly, they've started floating to the top of the Big 12 Conference race.
Who would've thought as much, after KU dropped to 1-2 in league play after the Mizzou setback? Four victories later, Kansas is just a half game behind conference leader Texas, with a lot of basketball left to be played.
"There's not many things less important than the score at halftime," coach Bill Self said. "It's kind of like that deal with the race. Seven games in, who really knows?"
With the unpredictable state of a large chunk of conference teams, nobody possibly can know for sure. Texas, the preseason favorite to win the conference crown, fell to Oklahoma on Saturday and dropped to 5-1. Oklahoma, thought to be one of the best teams in the Big 12, has two losses and a murderous road schedule upcoming.
Colorado (5-2) has won five league games in a row, but can the Buffaloes keep it up? Can Kansas? Can a three-win conference team - there are six of them, including Tech - find the lifejacket Kansas grabbed and float to the top?
Photo Gallery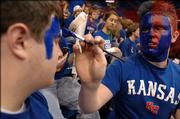 KU vs. Texas Tech
It's easy to see why Self is leery of feeling good about the Jayhawks' chances at this point. Sure, they're a half-game back. But 10 teams are within a two-game swing of them, too.
"I don't think I'd say we're in good shape," Self said. "I would say we're in a lot better shape than we were.
": I think a lot depends on what happens next Sunday, to be honest with you."
That, of course, is KU's next game, against Oklahoma. At 13-4 overall and 4-2 in the league, the Sooners are right there, too. Their victory over Texas on Saturday thickened the fog to the point of near blindness.
"I kind of figured they'd win," sophomore Russell Robinson said of the Sooners. "I kind of wanted them to win, too. It makes the game Sunday more interesting."
Sure does. Depending on how Oklahoma and Texas do in midweek games, Sunday's clash in Allen Fieldhouse could have huge implications on who gets a running start on the second half of the conference season.
"It's a wacky race," Self said. "I really believe this: Expect the unexpected."
And buckle your seat belt.
Copyright 2018 The Lawrence Journal-World. All rights reserved. This material may not be published, broadcast, rewritten or redistributed. We strive to uphold our values for every story published.