Seven minutes into the second half, Texas Tech put together an eight-point run to pull within 16 points of a vastly superior Kansas University team Wednesday night in Allen Fieldhouse.
Coming out of the timeout called by Bill Self, everyone in the building and tuning in on ESPN2 was reminded during a 41-second blitz of the KU coach's greatest accomplishment with this team.
That would be getting Brandon Rush, the brother of a former Missouri star no less, to come to Kansas after being advised by NBA talent evaluators not to make the jump directly from prep school.
That's how long it took Rush to score the first seven points of a 14-point run on the way to an 86-52 blowout of a Red Raiders team that qualifies as one of the worst Bob Knight ever has coached.
"Nah, I ain't never done that," Rush said when asked if he had ever scored seven points in such a short span.
First, he hit an open three-pointer from the top of the key. Next, he caught a rebound that came to him and, with nobody back on defense for Tech, took it all the way himself for one of his favorite dunks, the reverse, two-hand slam.
"I did that because I thought somebody was behind me," Rush said. "I was going to try to do something crazy, was going to try to go through the legs, get the crowd real hyped."
Photo Gallery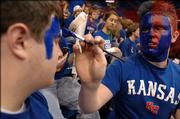 KU vs. Texas Tech
Rush says when he comes down the court on a breakaway as he's dribbling, he thinks about what he's going to do when he gets in the air. Don't we all wish we could say the same.
Before playing a game for the Jayhawks, Rush was asked to describe his game. He responded: "Highlights. Highlights."
He has delivered those, adding to his entertainment value. But it's his substantive contributions that have made KU a team that should crash into the Top 25 if it wins Sunday in Allen Fieldhouse against Oklahoma.
Against Tech, that would include his defensive performance against the team's second-best player, Martin Zeno, who managed to get off just eight shots and score nine points.
In a sense, Rush's coolest highlight of the night came when he crossed the right side of halfcourt, spotted Stephen Vinson in the left corner and nailed him with a perfect pass for a three-pointer.
Rush also posted his second consecutive double-double, contributing 24 points and 11 rebounds in 30 minutes.
More substance: He has hit 52 percent of his field-goal attempts, 53 percent of his three-pointers and 75 percent of his free throws.
While the crowd was dreaming in chanting "three more years!" there have been encouraging whispers lately on the Rush front. Word is his brother Kareem of the Charlotte Bobcats has cautioned him not to rush into his NBA career. Another thing going in KU's favor is that the family doesn't need financial assistance from him because of Kareem's pro paychecks.
For now, it's best to sit back and enjoy the highlights and substance.
Knight has become such a lightning rod, so larger-than-life among sports figures, it's not often he's overshadowed.
The way Rush and his up-tempo teammates played in winning for the 11th time in 13 games, the opposing coach quickly became irrelevant, and the spotlight of the event was shining brightly on Rush.
Copyright 2018 The Lawrence Journal-World. All rights reserved. This material may not be published, broadcast, rewritten or redistributed. We strive to uphold our values for every story published.