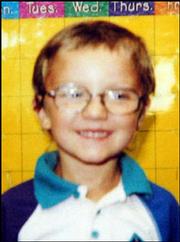 A 6-year-old boy was killed late this morning after he was struck by a minivan in a southeast Lawrence residential neighborhood, Lawrence police said.
The boy, who police identified this afternoon as Bryce K. Olsen, was declared dead at the scene, police said. The boy was struck about 11:40 a.m. at the intersection of East 25th Terrace and Harper Street, police said.
The boy appeared to have been crossing the street on a Razor Scooter, police said. The minivan was travelling south on Harper and turning right onto 25th Terrace when it struck the boy, police said.
The driver of the minivan, Peter Matthias Kwesi Afful, 45, Lawrence, told police he didn't see the boy before he struck him.
Police were interviewing the driver early this afternoon.
Copyright 2018 The Lawrence Journal-World. All rights reserved. This material may not be published, broadcast, rewritten or redistributed. We strive to uphold our values for every story published.