Ames, Iowa — Kansas University basketball coach Bill Self raced past a group of reporters en route to a postgame interview with ESPN, giving an emphatic thumbs up to the Jayhawks' exciting 95-85 victory over Iowa State on Saturday in Hilton Coliseum.
"That was a big one there, boys," Self said, grinning after KU's second road victory of the week and third victory in four times in Big 12 Conference play away from Allen Fieldhouse.
Except for 21 unsightly turnovers, there was little for Self to complain about regarding KU's fourth victory in six league games. Seven of those turnovers came with suddenly steady Russell Robinson on the bench nursing two fouls the last seven minutes of the first half, when KU saw a 12-point lead dip to three at halftime.
"We never got rattled," Self said of the Jayhawks, who hit 58 percent of their shots and 30 of 38 free throws. "Our guys answered with big play after big play. This team should have some momentum now."
And plenty of confidence heading into Monday's 8 p.m. home battle against Texas Tech.
Photo Gallery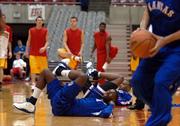 KU vs. Iowa State
The Jayhawks (13-6 overall, 4-2 Big 12) have hit better than 50 percent of their shots the last four games. In their last three road games, they've hit 55.3 percent of their field-goal tries.
"We've actually played better away from home," Self said after KU handed ISU (13-7, 3-4) its fifth home loss of the season. "Our four road games are the best games we've played all year. Our fourth-best home game hasn't been as good as our worst road game."
Self speculated the young Jayhawks felt the need to impress the home fans.
"Because of Kansas basketball and expectations being so high, I do think kids sometimes may feel they need to perform to please rather than to go out and have fun," he said. "Here, there's nobody. It's just us. It's why locker rooms are more fun on the road. You do it (win) when basically nobody else is helping you do it.
"When you miss two free throws in a row, you don't hear the wind come out of the sails like it does at home sometimes. It's a compliment to our fans. They are there every game, and there's some pressure."
Robinson, who scored 18 points with four assists in 27 minutes, said KU tended to play with a free mind on the road - as evidenced by the Jayhawks cashing 15 of their final 16 free throws the last 2 1/2 minutes.
"I guess maybe trying to live up to expectations of the fans maybe puts a little more pressure on us at home," Robinson said.
Robinson, who helped hold fellow Bronx native Curtis Stinson to 24 points off 8-of-22 shooting, showed great poise in hitting all four of his free throws.
KU's worst stretch of the game - nearly a killer - came when Robinson headed to the bench with his second foul with 7 1/2 minutes left in the first half.
At the time, Kansas led 25-15. Iowa State outscored KU 20-13 the rest of the half, cutting KU's 12-point lead to three.
"I said I probably screwed the game up," Self said of ISU grabbing momentum with Robinson sitting the remainder of the half. "My deal was, when you are up 12 and have control of the game, I wasn't going to risk him getting his third foul.
"My thought was, no way would we win the game down the stretch without him against their pressure."
Go figure
66.7 KU's second-half field-goal percentage (16-for-24) 30 Points by KU from the free-throw line (from 38 attempts) 16 Points by ISU from the free-throw line (from 20 attempts) 21 KU's turnovers against Iowa State, leading to 20 ISU points 18, 3, 4 Points, rebounds, assists for KU's Russell Robinson 24, 7, 4 Points, rebounds, assists for Curtis Stinson, Robinson's Bronx pal
Robinson, who scored 15 points while playing 18 minutes the second half, realized his coach made the right call in protecting him with two fouls.
"I was sitting there thinking, 'We will not win or lose the game the first half,''' Robinson said. "I knew I had 20 more minutes. I got back in the second half and tried to control things. I tried to not let Stinson take over the game."
Robinson keyed a pivotal 15-1 run that stretched a 47-45 lead to 62-46 with 11:51 to play. He had a three-pointer and a two in that run and also fed Brandon Rush (20 points, 10 rebounds) for a slam dunk.
Iowa State never crept closer than seven the rest of the way, despite a scare when John Neal came in and hit consecutive threes, which, along with a Stinson two, cut KU's 16-point lead in half.
"Russell coming back in was a real big deal," Rush said. "He helps relieve the pressure a lot on me and Mario (Chalmers, 21 points of 6-of-9 shooting and 6-of-9 free throwing), and he's starting to become a real good scorer. He was ready to get back out there. He was pretty mad about getting the two fouls."
Robinson grinned when asked if he'd won the "Battle of the Bronx."
"Yeah, I won the battle," he said with a grin. "I spoke to him, a little trash. It was all in good favor, real competitive.
"He got some easy buckets late. I think I did a good job. Our team won. I can talk on that one. But we play them again, and we'll work hard and see what happens again that day."
That day is Feb. 11 at Allen Fieldhouse.
Copyright 2017 The Lawrence Journal-World. All rights reserved. This material may not be published, broadcast, rewritten or redistributed. We strive to uphold our values for every story published.