Ames, Iowa — ¢ Kansas University's Brandon Rush and Iowa State's Shawn Taggart were roommates last year at Mount Zion Academy in North Carolina.
"He's like my brother," Taggart told the Des Moines Register. "He can score points in bundles. He can rebound, block shots, and he's just like me - he can't play defense."
Taggart, a 6-foot-10 freshman from Richmond, Va., started and played 26 minutes. He scored six points with two rebounds. Rush, 6-6 from Kansas City, Mo., had 20 points and 10 boards in 37 minutes.
"I can play defense," Rush said with a grin. "When we played together, we didn't play defense, we just took turns taking shots. How's that?"
He was asked if he and Taggart spoke on the phone about heading to the NBA after this season.
"No, we don't talk about the NBA. We've got to get through this year before we think about that," Rush said.
Photo Gallery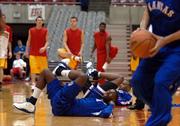 KU vs. Iowa State
¢ No Downs banter: KU coach Bill Self for the second straight day had no comment on Micah Downs' decision to transfer from KU to Gonzaga, first reported by the Journal-World on Friday night.
"I don't want to comment on it," Self said, indicating he probably would talk about the matter more next week.
¢ Mellow yellow: ISU scrapped its traditional home white uniforms for nontraditional yellow, trying to change its luck at home, where it has lost five games this season, three in a row in Big 12 Conference play.
"The coaches say we went from Hilton Magic to Hilton Tragic," ISU guard Will Blalock said. "On the road, we really bring it. I can't explain what happens at home. It's crazy."
¢ About Kansas: KU is 10-2 in its last 12 games. : Self picked up his 60th victory in three years at KU. : Mario Chalmers' 21 points was one off a career high. : KU has hit 50 percent or better in four straight games and nine times this season. : C.J. Giles, who had one turnover and one assist in five minutes the first half, didn't enter in the second half until after a timeout with 10:10 left in the contest. He immediately accepted a pass from Darnell Jackson and scored. He finished with three points and two rebounds in eight minutes. Jackson, who has been eating up Giles' minutes of late, tied a career high with 13 points and eight boards.
¢ Bobbles: KU suffered 21 turnovers against Iowa State's press and zone defense.
"You've got to attack it, be aggressive. I think we were, for the most part," Russell Robinson said.
Copyright 2018 The Lawrence Journal-World. All rights reserved. This material may not be published, broadcast, rewritten or redistributed. We strive to uphold our values for every story published.