Washington — A Lawrence arts program received national recognition Wednesday during a White House ceremony.
Van Go Mobile Arts Inc. received a 2005 Coming Up Taller Award for its Jobs in the Arts Make Sense program, which is known as JAMS. First lady Laura Bush presented the award to Lynne Green, Van Go's executive director, and Faith Darnell, a 17-year-old JAMS participant.
"To be recognized like this, it's awesome. It's the best," Green said. "We feel like we just won an Academy Award."
Van Go's program for at-risk teens was one of 17 organizations to receive the award, which comes with a $10,000 grant. The recognition is given to after-school arts and humanities programs across the United States that encourage educational achievement; more than 250 organizations were nominated.
"The programs we recognize with the Coming Up Taller Awards bring caring adults into the lives of children so these children can become successful and healthy adults themselves," said Bush, who presented the honor on behalf of the President's Committee on the Arts and Humanities.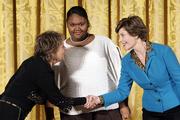 Green started JAMS in 1999. Young adults ages 14 through 21 earn minimum wage to create and complete art projects commissioned by local organizations and businesses. Participants are also paid for artwork that is sold in the Van Go Gallery. The program employs 100 teenagers each year from the Lawrence area.
Darnell has been with JAMS for nearly four years. She has helped paint a library mural and has worked with glass, jewelry and paint. She said the program has given her confidence.
"I just grew more as a person. My social skills developed a lot more, and it was just very fun, very nurturing," Darnell said.
Green said the impact of the program has been "astounding."
"We have seen kids really transform," Green said. "Art is such a powerful tool to do that, and for the children in the program, they have succeeded and transformed their lives, found jobs and gotten good grades."
Green said she planned to put the award money into a savings account for the program. Van Go is in the midst of a $325,000 fund-raising drive to build expanded headquarters in Lawrence.
Copyright 2018 The Lawrence Journal-World. All rights reserved. This material may not be published, broadcast, rewritten or redistributed. We strive to uphold our values for every story published.