Van Go Mobile Arts is heading into the home stretch toward raising $1.3 million to renovate its facility and expand its services.
During its annual Adornment Show and reception Saturday night, Van Go staff and supporters took their fundraising campaign public and unveiled images of what the building will look like while announcing that $717,800 in mostly private donations had been raised for the project.
The money was raised through donations made by 220 families, organizations, businesses, the city of Lawrence and the state of Kansas.
If all goes as hoped, work could begin in June, and the project would be completed by September 2007, said Heather Hoy, Van Go development director.
The images and architectural plans for the project were prepared by Lawrence architect Dan Rockhill, who attended Saturday night's event.
Photo Gallery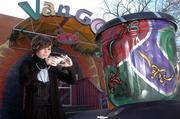 Van Go Mobile Arts
"(The new space) builds in a tremendous amount of flexibility, which is something they really wanted to have in the scheme because they are responding to the needs of children in the community," he said.
Van Go will renovate the 12,000-square-foot garage and warehouse-style building at 715 N.J., where it has operated since 1998. The first renovation will cover most of the building - 9,000 square feet to allow more and better services to be provided. The remainder of the building will then be renovated, including the main rooms Van Go is currently working out of.
"Because the need for our services has been growing, we need to make the space more workable so we can serve more kids and serve them in a more comprehensive way," Hoy said.
About 90 youths are served each year by Van Go. It hopes to double that number when the renovation is completed, Hoy said.
Van Go is an after-school and summertime program that employs 14- to 21-year-olds from low-income or at-risk backgrounds to work on art projects. Many of their works are on display in part of the building. In addition to paying minimum wages, Van Go also teaches participants a variety of job and life skills ranging from showing up to work on time to finding an apartment.
"We want to look at the kids holistically and try to figure out what they need," Executive Director Lynne Green said.
Once the renovation is completed, Van Go plans to offer more arts and job training, including woodworking and carpentry, computer skills and possibly welding, Art Director Cathy Ledecker said.
Many of the youths who Van Go works with will not continue their education past high school.
"A lot of people in the community respond to the fact that not every kid is college-bound," Hoy said.
The public fundraising campaign will be headed by Mark and Marsha Buhler, along with Susan Tate, who had been leading the campaign to date.
The Adornment Show also provides the public with the first opportunity to view and purchase artwork created by the fall JAMS (Jobs in the Arts Make Sense) Program.
Copyright 2017 The Lawrence Journal-World. All rights reserved. This material may not be published, broadcast, rewritten or redistributed. We strive to uphold our values for every story published.