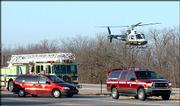 At least two people were injured this afternoon in a two-vehicle accident just east of Lawrence on Kansas Highway 10.
One person was taken by a Life Net helicopter to an area hospital. And at least one more person was transported by ground ambulance to an area hospital from the accident site, which is near mile marker 6 near the K-10 intersection with Noria Road (E 1750 Road).
The accident, which involved a car and a light pickup truck, occurred just after 3 p.m. Douglas County emergency personnel were still on the scene about an hour later. The two vehicles were about 100 yards apart, according to witnesses.
The accident was tying up westbound traffic on K-10 and traffic was being diverted north to E 1750 Road then to Douglas County Route 442 and to N 1500 Road.
Copyright 2017 The Lawrence Journal-World. All rights reserved. This material may not be published, broadcast, rewritten or redistributed. We strive to uphold our values for every story published.