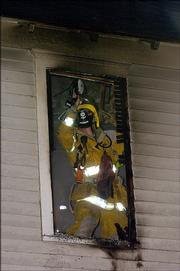 One person was injured this morning when a fire broke out in a house at 1322 Mass.
The victim, a man, was one of three roommates living in the house and he was taken to Lawrence Memorial Hospital by ambulance, said Lawrence Fire Marshal Rich Barr. He suffered smoke inhalation and burns. There was no word on his condition.
Lawrence-Douglas County Fire & Medical responded to the alarm at 7:18 a.m. The cause of the fire is under investigation. The fire may have started in a second-floor bedroom, Barr said. The damage was mostly on the second floor, he said.
The 1300 block of Massachusetts was barricaded to traffic from the time of the fire until about 9:15 a.m. when it was reopened.
Copyright 2018 The Lawrence Journal-World. All rights reserved. This material may not be published, broadcast, rewritten or redistributed. We strive to uphold our values for every story published.