Emma Mercer's decision to crash the macho world of high school wrestling started out on a lark.
"My cousin and I joked about going out for the team in seventh grade," said Mercer, now a junior at Lawrence High. "He quit after the first season, but I stuck with it."
The ensuing five years have seen plenty of highlight moments, including a pin during her first varsity match as a 112-pound freshman at the Ottawa Duals and a top-20 ranking in her age group by the United States Girls Wrestling Assn.
However, it's what Mercer accomplished two weeks ago during a routine LHS practice that has her currently wrestling on cloud nine.
Fed up with her position on the Lions' junior varsity, Mercer challenged teammate Jordey McTaggert for his spot as the 119-pounder on the LHS varsity. She knew the rules going in - win two consecutive challenge matches, and the spot was hers.
She didn't just win. She collected back-to-back pins, punching her ticket to the big time for the first time.
Unlike her previous varsity experiences, when Mercer was bumped up because someone failed to make weight or suffered an injury, it was her ability - not a fortunate set of circumstances - that landed her in the varsity lineup.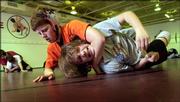 "It feels great. It feels good to finally earn a spot here," said Mercer during a break in the action at the Shawnee Mission East Invitational on Jan. 7, where she finished 1-3 in her first tour of duty with the LHS varsity since claiming her spot.
Call it a just reward for someone who's earned the admiration of her peers and the LHS coaching staff for proving that her one-time follow-through of a joke is now serious business.
"We're a pretty good team, and when we have Emma on there, she works so hard - she puts an exclamation point on what we do," said junior Brandon Goodwin, the Lions' 103-pounder. "She's the hardest worker on the team."
"If you had 40 people that worked like her ... there's no telling what we'd be able to accomplish as a team," LHS coach Mark Dulgarian said.
Thus far, Mercer's diligence hasn't reaped optimum rewards. With a loss at last week's double dual against Topeka and Topeka West, her record slipped to 1-4.
However, it's not her showing come game time, or even her affinity for hard work, that will determine how long Mercer will enjoy her day in the sun.
Now, she's one of the wrestlers in the LHS wrestling room with "a price on her head" - the target of ever-present challenge matches with her own teammates anxious to nab a varsity spot of their own.
"We've got some freshmen coming up that are going to start challenging at 119," Dulgarian said. "It's hard to say (how much time she'll spend on varsity). But she's got better technique than they do."
"I've never been in this position before," Mercer said. "I've always been the person scheduling a challenge match every week or two.
"It's nerve-wracking, but if I want to keep the spot, I've got to do it.
Copyright 2018 The Lawrence Journal-World. All rights reserved. This material may not be published, broadcast, rewritten or redistributed. We strive to uphold our values for every story published.