When it comes to sending young music students to the state's most prestigious competition, no place tops Lawrence.
And that has music educators here and elsewhere crowing.
"For one school district to have five groups going to convention is awesome. It means you've got a fabulous program," said Kansas Music Educators Assn. President Dee Hansen, who teaches music education at Baker University.
Lawrence schools are sending five groups to perform Friday at the KMEA annual convention in Wichita.
"This is huge," said Patrick Kelly, the school district's fine arts facilitator.
Most school districts, he said, are thrilled to send one group every three or four years to the invitation-only event. Lawrence usually sends three or four groups every year.
"The fact that we're sending five (groups) just says so much about our programs here," Kelly said. "They're the best in the state - no two ways about it."
Invitations don't come easy.
Schools throughout the state submit audition tapes. A panel of judges listens to each tape without knowing who they're listening to. Only the top performers are invited.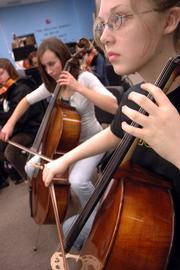 "For a school ensemble, it's the highest honor there is in the state of Kansas," Kelly said. "There are festivals where anyone, if they're good enough, can go and get a No. 1 rating, but this is a venue in which only a few achieve the honor of being invited."
The convention's rules prevent ensembles from scoring consecutive invitations.
"You can only go every other year," Kelly said.
For example, Lawrence High School's Symphonic Band went to the convention last year and so cannot go again this year.
Across the state, 23 elementary, junior high and high school ensembles scored invitations this year.
Trailing Lawrence, the Blue Valley and Topeka school districts each had three ensembles invited; Manhattan and Newton each had two.
"You've got a good thing going up there in Lawrence," said Greg Bontrager, chairman of KMEA's choir division. "There's definitely a strong musical tradition" in Lawrence.
Selected ensembles
Lawrence ensembles headed to the prestigious Kansas Music Educators Assn. convention in Wichita: ¢ West Junior High School Chorale ¢ All-city Freshman Honor Band ¢ Lawrence High School Orchestra ¢ Free State High School Chamber Choir ¢ Free State High School Concert Band
Bontrager teaches music in Goessel, a small town north of Wichita.
But tradition is only part of the story, said Rachel Dirks, director of orchestra at Free State High School.
"As a community, Lawrence wants and is willing to support a really good music program," Dirks said. "Kids come into the program ready and willing to work hard to achieve excellence. And then, because of these things, I think we attract some of the very best teachers in the state."
Dirks and her husband, Mike Jones, taught music in Newton before moving here five years ago. Jones is band director at LHS.
Neither the tradition nor the community's expectations are lost on Lawrence students.
"A lot of value is placed on music in Lawrence," said Mason Heilman, a Free State senior who plays trumpet in the concert band and sings tenor in the chamber choir. He's also on the swim team.
"Being in the choir is comparable to being in sports in that it gets just as much respect," within the student body, he said. "And there's a family aspect, too, in that we're all in this together. We all really want to see our hard work pay off."
Copyright 2018 The Lawrence Journal-World. All rights reserved. This material may not be published, broadcast, rewritten or redistributed. We strive to uphold our values for every story published.