Those Dutch fans can be pretty gung-ho.
Dressed in orange and shouting spiritedly, a group from the Netherlands was among the many sights for Kansas University students who have trekked to Torino, Italy, to take in the Olympic winter games.
"After getting lost we finally found the Olympic village and ran into some crazy Holland fans roaming the streets, wearing orange reflective clothing, blowing whistles and yelling in Dutch to what I made out to be a beer chant," KU student Brianna Lovato wrote in an e-mail message from Italy.
Sixty KU students are enrolled in KU's study abroad program in Paderno del Grappa, Italy, a small town north of Venice. During a break from classes, several headed to Torino. They reported a packed city bustling with Olympic excitement.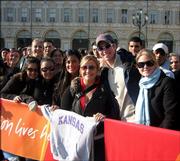 "It was a cool vibe," said student Danny Dunne, who spent two days in Torino before heading to Milan and Vienna. "There are tons of people from all over. You just pick out blocks of people from different countries."
Dunne watched a hockey game and a men's speed skating event.
"It was really nuts," he said of the speed skating. "Everyone was really into it."
While in Torino, Lovato took part in what has become an American ritual.
"In case you were tuned in on Sunday morning for the Today show, you might've caught a glimpse of a few of us waving my Kansas hoody and mouthing, 'Hi, Mom,' to the camera," she said in her e-mail.
Lovato and her friends then hit a restaurant that advertised American breakfasts.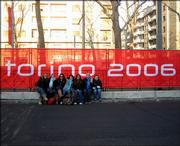 "There was no bacon and eggs that we were expecting," she said.
And, of course, they bought souvenirs.
"We made it to the Official Olympic store, bought a T-shirt to say we were there and dodged the 5 million people doing the same thing," she said.
The games run through Sunday.
Copyright 2018 The Lawrence Journal-World. All rights reserved. This material may not be published, broadcast, rewritten or redistributed. We strive to uphold our values for every story published.