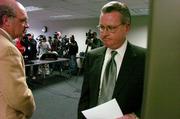 Police are chasing hundreds of leads from the early Sunday morning downtown shooting that killed one man and injured another - but many of the main witnesses aren't talking.
"It is very frustrating to know we have as many as a dozen witnesses in the community who are not talking to us," Lawrence Police Chief Ron Olin said this morning at a news conference to discuss the murder.
The shooting happened just after 2 a.m. Sunday near the Granada, 1020 Mass., when bullets hit and killed a Topeka man, Robert Earl Williams, 46.
Another victim, a 22-year-old Kansas City, Kan. man, also was hit by bullets near the club. He was flown by helicopter to a Kansas City hospital, where he remained hospitalized Monday. Police said the man was alert enough to respond to initial questions; they planned a follow-up interview.
"I think from the preliminary interview, he doesn't know who (the shooter) was," Lawrence Police Capt. Dave Cobb said. "He was trying to get away."
Police said the incident took place after a hip-hop show at The Granada. About two dozen people had gathered to determine the location of an after-hours party with some of the performers, when an argument broke out among a half-dozen individuals.
"Guns came out. Shots were fired. Everybody runs," Cobb said.
Olin said police don't have a specific suspect. He said the investigation may take police out of state.
"Most of the leads," he said, "are not in the city of Lawrence."
Copyright 2018 The Lawrence Journal-World. All rights reserved. This material may not be published, broadcast, rewritten or redistributed. We strive to uphold our values for every story published.