Prostitution and murder are not what Beverly Boyd sees when she thinks of Ipswich, the English borough she has visited regularly for 20 years and now is the center of an international news story.
"This is terrible," Boyd said. "Ipswich hasn't got a history of crime. : It's one of those places where the biggest things in a year would be, like, horse shows."
Boyd is a Kansas University English professor who specializes in Middle English literature and has written six books on 14th century poet Geoffrey Chaucer. Her research regularly has brought her to Ipswich, the normally quiet city northeast of London.
She has visited Ipswich two times this year, conducting research on Chaucer's ancestors for her next book, "Cordwainers, Widows, and Wine: Sources of Chaucer's Imagination."
Her last visit was a two-day stop during the Thanksgiving holiday.
Soon after she departed the city of about 140,000 people, police began investigating a series of prostitute murders, reminding some of the days of London's Jack the Ripper.
The naked bodies of five women were found in areas around Ipswich during a 10-day period that began Dec. 2. Police on Friday charged 48-year-old Stephen Wright with the murders.
"I'm horrified," Boyd said.
The industrial community is not much of a tourist destination. But Boyd has done her part to help put it on the map.
In the late 1980s, Boyd spearheaded an effort to recognize the borough's connections to Chaucer, the famed author of "The Canterbury Tales" whom some consider to be the father of English literature.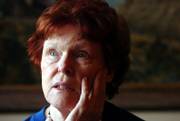 Boyd worked to get a plaque placed on a building, recognizing the site of a tavern linked to Chaucer.
And that tavern is at the heart of a tale that Boyd believes sheds light on the writer and his ancestors.
Chaucer's father, John Chaucer, was set to inherit a slice of the tavern - but an aunt was bent on seizing it.
"As a child of 11, (John Chaucer's) aunt kidnapped him to try to force him to marry her daughter so she could own the whole tavern," Boyd said. "It didn't work. You could imagine the impression that was left on a child of 11 when everyone started suing over this kidnapping and slice of the tavern, and this poor kid was stuck in court until he was about 14 or 15."
John Chaucer's mother, Mary, finally won the lawsuit, but by that time John Chaucer had come of age and was able to collect and set himself up in business in London as a wine merchant. And the aunt never profited from the tavern.
"The poor aunt - she had to sell it to pay for the trials," Boyd said.
The tavern is long gone, but the plaque reminds people of the history of the place. And the site is one of the pieces of Ipswich that Boyd hopes upstages the current stories of prostitution and murder.
"I hope people will forget about this and not go to Ipswich because they saw it on the television in connection with murders, but go there because it's an old town," she said.
Copyright 2018 The Lawrence Journal-World. All rights reserved. This material may not be published, broadcast, rewritten or redistributed. We strive to uphold our values for every story published.