Former Kansas University walk-on guard Scott Novosel, who has lived in Tokyo the last seven years, attended, as did former KU guard Nick Bradford, who plays professional basketball in France. Novosel is front man of Jai Live, a band that fuses rock 'n' roll and rap genres. The band's first album is due out this spring.
¢ Signee, recruit in house: Travis Releford, a junior guard from Roeland Park Miege who is considering KU, Duke, North Carolina and others, attended and sat behind KU's bench with KU signee Tyrel Reed of Burlington.
¢ Home for holidays: The Jayhawks broke for the Christmas holiday after the game. The only Jayhawk to remain in town is Darrell Arthur, who elected not to make the trip back to New York.
Sasha Kaun, who hails from Russia, will be visiting friends in upstate New York for Christmas. Sherron Collins had a flight to Chicago on Saturday night, while fellow Chicagoan Julian Wright drove back with his relatives. Darrell Arthur drove to Dallas with his former AAU coach, Jazzy Hartwell.
¢ Block artist: B.C. junior Sean Williams fell three blocks short of recording the second triple-double against KU in history.
He had 19 points, 15 rebounds and seven rejections. Magic Johnson of Michigan State scored 12 points, with 11 assists and 10 rebounds, in 1979 in East Lansing, Mich.
Williams' seven blocks were most by a KU opponent since Duke's Shane Battier had eight blocks on March 19, 2000. His five first-half blocks were most since Missouri's Travon Bryant recorded five in the first half on Feb. 2, 2004.
Photo Gallery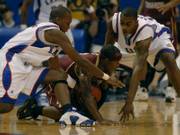 KU vs Boston College
Williams, who hit seven of 12 shots, impressed the Jayhawks.
"He's the best shot-blocker I have ever seen. He comes from nowhere and gets you," Robinson said.
Brandon Rush added: "He was laying back and waiting on the person to shoot. He would try to block every one. He'd just wait for you to shoot so he could block it. He was ballin'."
Rush said Williams, whose 15 boards were most by a KU foe since Iowa State's Jackson Vroman grabbed 19 on Feb. 21, 2004, also talked a good game.
In pre-game warmups, Rush said Williams rubbed his hands together over and over, implying the Eagles would feast on the Jayhawks.
"He turned around and said, 'You ain't bleep,''' Rush said with a smile. "Williams talked the whole game."
¢ Brady plays one minute: Brady Morningstar entered in the first half after Rush had picked up his second foul with KU up, 16-10. Morningstar guarded senior Jared Dudley, who scored an immediate inside bucket as B.C. went on a 6-0 run.
"They were playing a matchup zone, and Brandon had two fouls. Do we want to play against the zone big or have a shooter in there? I decided to put in another shooter," KU coach Bill Self said of Morningstar. "He was only in a minute. They were going to post (Jared) Dudley against him. It's tough for him (Morningstar) to do."
Audio Clips
2006-07 Dec. 23 KU-BC Hoops
¢ Collins' minutes down: Collins, who took a shot to the face early in the game, played just nine minutes, four the second half. He wasn't hurt. It was a coach's decision.
"I wanted to play Sherron. I didn't think he was playing as well as some other guys at the time," Self said. "The game was so slow the second half with us playing zone, not too many guys get tired and ask to come out."
¢ Stats, facts: KU is 10-2 for the third time in four seasons and sixth time in eight years . : Mario Chalmers set season highs with 22 points and 15 field-goal attempts. His 22 points were one shy of his career high of 23 set on Feb. 11, 2006 versus Iowa State. : Julian Wright's 13 field-goal attempts were a season high, and his four assists and three steals tied season highs. Wright had his second career double-double with 13 points, 12 boards. : KU has held 17 straight foes to under 50 percent shooting and 48 of its last 50. : Rush and Wright both missed dunk tries, as did B.C.'s Sean Marshall.
¢ Fans miffed: CBS' Kansas City affiliate cut away from the game with just over a minute left, angering KU viewers who missed late dunks by Darnell Jackson and Wright.
Copyright 2017 The Lawrence Journal-World. All rights reserved. This material may not be published, broadcast, rewritten or redistributed. We strive to uphold our values for every story published.