When Lawrence High senior Hannah Somers attends local wrestling meets, she cheers for crosstown rival Free State High.
"I will always root for Free State," Somers said, "just 'cause my brother goes there."
Somers has been thrust into the middle of the LHS-Free State rivalry. In addition to having her brother, Marc, wrestle for the Firebirds, Hannah attended Free State prior to transferring before her senior year. Somers said she changed schools because the Lions' basketball program served as a better fit.
Indeed, the 5-foot-7 guard seems to have meshed with her new squad.
"They accepted me really well," Somers said.
High school can feature layers of social discomfort for those entering a new school - new teachers, different environs, finding a regular group of lunchmates. But Somers downplayed the adjustment. She knew several LHS students from summer basketball camps and from Central Junior High, including teammate and friend Abby Vestal.
This week, Somers faces the teammates she played with last year, adding intrigue to Thursday's game between LHS and Free State in the Firebirds' home gym.
"I just kind of look at it as another game," said Somers, spouting the typical jock cliche before acknowledging, "but there will be more excitement going into it."
Somers, who served as a backup on the Firebirds' varsity team last winter, could serve as a resource on how to stop some of the Free State player's go-to-moves. LHS basketball coach Kristen Mallory, however, dismissed that notion, emphasizing how familiar both teams have become with the opposing team's personnel and playing style.
"We've played (Free State) so many times and see them play so many times," Mallory said. "It's not like we're using her for that."
Mallory has used Somers, who began playing competitive basketball in the second grade, to provide depth at shooting guard and leadership for a team that features just three other seniors. A deadly catch-and-shoot player, she stretches the defense and can find teammates with deft passes.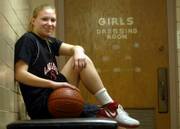 Her most important contribution, however, may be the work ethic she instills in her younger teammates. The senior attended every weights and offseason workout session. And though not one of the team's fastest players, Somers routinely strains to finish near the lead in sprints.
"You can just see the determination on her face," Mallory said. "It's easy to find her minutes because she works so darn hard."
Somers still needs development in one area. During agility warm-ups - a series of pre-practice calisthenic-like stretches - teammates derided her lack of rhythm.
"I can't dance," she joked. "I'm a country girl."
Such gentle ribbing occurs between her and Marc, who finished fifth in his weight class at last year's Class 6A state wrestling tournament, as they discuss their respective team's wins and losses.
"We just compare everything," Hannah said. "When football season was played, he would give me crap about how they would win in football."
Although the jabs between siblings may escalate this week with Thursday's hoop matchups on the horizon, Somers remains even-keeled.
"She's done a good of not getting caught up in the rivalry," Mallory said. "She played at Free State for a couple of years. I think she was happy with her time there. At the same time, I think she's loving her time here."
Copyright 2017 The Lawrence Journal-World. All rights reserved. This material may not be published, broadcast, rewritten or redistributed. We strive to uphold our values for every story published.