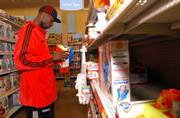 Smart-shopper Julian Wright wasn't prepared to purchase a Christmas gift for a 7-month-old girl without sampling it first.
So Kansas University's 19-year-old basketball player punched buttons and levers on a Playskool Poppin' Pals keyboard, making animal characters snap up and down from under the toy's base.
What about it, Julian?
"I'm looking for something that can be used awhile - fun but something they can learn from, too," said Wright, a sophomore in college classification but, judging from the smile on his face, still a kid at heart.
Wright - who along with the rest of his teammates congregated at Wal-Mart on Sunday night for the Jayhawks' annual shopping spree for 14 needy families - at least temporarily resisted the urge to put the toy in his cart.
He needed more time to consider what a 40-year-old mom as well as her three children might truly cherish under the Christmas tree.
Just down the aisle from Wright was junior Russell Robinson, who picked out a Playstation 2 game, towels and clothes for a dad and his two children with money raised by members of KU's Roundball Club, KU's coaches as well as anonymous donors.
"To do a small part to help other families enjoy Christmas is a great thing for us," Robinson said.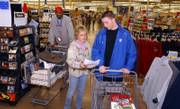 "It's nice to know people less fortunate than you will have some presents on Christmas. It makes you feel better about yourself. To give back in some small way is great."
Freshman point guard Sherron Collins faced quite a challenge in shopping for a mother and her two young daughters. He placed a small pink winter jacket in his shopping cart as well as pots and pans and other cooking utensils.
"I've got Mrs. Morningstar with me. She is a big help to," Collins said of Linda Morningstar, busy assisting her son, Brady, and Collins. "From where I come from (Chicago), a lot of people try to give back to the community. I like to follow that example and do what I can as well."
For freshman Brady Morningstar, it marked the first time he attended the shopping outing.
His father, Roger, has been in charge of the program 13 straight seasons.
"As I grew up, I just knew he went out to Wal-Mart once a year," Brady said. "When I got older I knew why. I know it's something the players look forward to every year. I'm really excited about getting to give something back."
Fourth-year junior Jeremy Case, who had a full cart load of toys and clothes for a 25-year-old mom and her three children, said he never tired of the Christmas outing.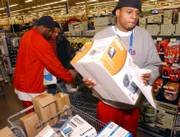 "Giving back to the community is great," Case said. "Everybody should do it at least once in your life. It makes you feel good about yourself."
KU coach Bill Self wandered the aisles checking on the progress of his players.
"Our guys try to do a good job. They take great pride in it," Self said. "It's such a good cause. We have all been so blessed in so many ways. Just the opportunity to do something for maybe somebody who hasn't had the same opportunities makes everybody feel good.
"We get so wrapped up in our season and how we're playing and trying to get better. I think with school out and it being the holiday season ... I think it's good to go out and do something for other people as opposed to be so consumed as what's going on in our little world.
"Hopefully they will have a heck of a Christmas," Self added of the families, whose names were provided by Salvation Army.
¢ Giles to consider colleges: Former KU forward C.J. Giles has apparently decided to play college basketball again instead of heading to the CBA or NBA Developmental League. Giles told KU assistant Kurtis Townsend he would visit Eastern Washington, New Mexico State and maybe Oregon State. Eastern Washington, which may be the favorite, is located close to Giles' hometown of Seattle, where he is currently residing.
¢ Kaun practices: KU junior Sasha Kaun (sprained left ankle) practiced on Saturday and Sunday. "He's sore (but) he went the entire time today," Self said. "I don't anticipate him missing any more time." Self said Kaun should be able to play in Tuesday's 7 p.m. home game against Winston-Salem State.
Copyright 2018 The Lawrence Journal-World. All rights reserved. This material may not be published, broadcast, rewritten or redistributed. We strive to uphold our values for every story published.