The crowd was announced as 16,488 in a building that seats 17,818 for basketball.
It was a mostly silent throng. One of the loudest cheers was mock applause when Mario Chalmers swished a free throw with 28 seconds left, a charity that followed a stretch in which Kansas University banged six of nine off the rim.
"The crowd was dead, but I don't blame the crowd. Gosh almighty. Based on what I saw, heck, I can understand that," KU coach Bill Self said.
¢ Block party: Led by Brandon Rush and Sasha Kaun, who had career-bests four blocks apiece, KU totaled a school-record 15 blocked shots. The old mark was 14 against Iowa State on Feb. 7, 1996.
KU had eight blocks in the second half, the most in a half since eight against Texas Tech on March 9, 2002, also in Kemper Arena.
Despite all the swats, KU was outrebounded, 37-35.
"Sometimes rebounding stats can be a little misleading," Self said. "They got six offensive rebounds that went out of bounds. If you break it down : our big guys combined for two offensive rebounds, which is absolutely bad."
Rush said: "They shot a lot of threes, so there were some long rebounds. They were quicker than us to the defensive rebounds. : We contested every shot and we had 15 blocks, so I think we did some good things on defense."
Photo Gallery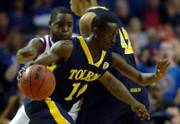 KU vs. Toledo
¢ Role reversal: Junior Darnell Jackson (seven points, four boards, 15 minutes) started in place of Darrell Arthur (nine points, four boards, three blocks, 22 minutes).
Arthur had started the last seven games. Jackson, who started the first two games, had come off the bench the last seven.
"He (Arthur) came to me and asked if he could not start. We talked about it two weeks ago. I said, 'No, you are going to start,''' Self explained.
"This past week he said, 'Coach I feel better coming off the bench. I like it better.' I said, 'We'll try it.'''
Asked what Arthur liked better about coming off the bench, Self said: "Not having two fouls at the first TV timeout. I'd say that would be the biggest thing."
Audio Clips
2006-07 Dec. 9 KU-Toledo Hoops
¢ Minutes down: Chalmers, who had two quick fouls, played just eight minutes the first half.
"He got two, and we actually played better when we went to the bench. I wasn't going to put him in with five minutes left," Self said.
Julian Wright played 21 minutes, just six the second half. Kaun logged 22 minutes, 11 the final half.
"Sasha was obviously better for us in the game from a size standpoint, getting a couple of easy baskets than Julian probably would have been," Self said. "I told Julian that after the game. Julian's advantage playing against big guys is to outquick them. Tonight we knew that wouldn't be the case."
¢ Crane High fares well: Chicago's Crane High was well represented Saturday at Kemper Arena.
Toledo senior forward Florentino Valencia scored 11 points and had six rebounds in 32 minutes, and sophomore Tyrone Kent two points, four rebounds and three assists in 21 minutes.
Sherron Collins, KU's freshman guard out of Crane, had five points, four assists, six turnovers and two rebounds in 19 minutes.
¢ This, that: KU has 37 blocks in its last four games to opponents' three. : KU finished 80-24 all-time at Kemper. : KU had a season-low eight offensive boards.
Copyright 2018 The Lawrence Journal-World. All rights reserved. This material may not be published, broadcast, rewritten or redistributed. We strive to uphold our values for every story published.