Thanks in part to former Kansas University basketball player Kirk Hinrich, the United States appears to be regaining prominence on the international scene.
The 6-foot-3 point guard has averaged 6.2 points and 2.0 assists in 19.0 minutes per game for the U.S., which takes a 6-0 record into Wednesday's 5:30 a.m. World Championship quarterfinal contest against Germany (5-1).
"I think Kirk has done a great job," KU coach Bill Self said Monday, chatting on a variety of topics at his Boy Scout Golf Classic at Alvamar Country Club.
"There are probably five or six guys on that team who on the verge of being perennial all-stars. Kirk is one of those guys, and I think this will do a lot to enhance his popularity and to give him great confidence that he can play with the very best and have great success."
Hinrich this year begins his fourth season with the Chicago Bulls. Another ex-Jayhawk, Paul Pierce (elbow injury), is also in the running to be on the 2008 Olympic team.
"I'm sure Paul will be on that team eventually, too, or have a great chance," Self said of the Boston guard.
Hinrich's and Pierce's popularity figure to help KU in recruiting prep athletes who look up to those players. Self also likes having Nick Collison (Seattle), Drew Gooden (Cleveland), Scot Pollard (Cleveland), Jacque Vaughn (San Antonio), Raef LaFrentz (Portland) and Wayne Simien (Miami) in the league.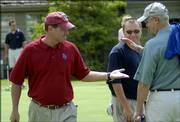 "Any time you get your name out there in any way, shape or form, it helps," Self said. "You talk about the marketability of the premier players in the league, we have two of most marketable guys in Paul and Kirk.
"Nick and Drew are close. Scot and Jacque are hanging on and doing a great job, as well as Raef. Of course Wayne : his time is coming," Self added of Simien.
"Aaron (Miles) has a great chance to make a team this year. I'm really proud of our alums, but Kirk and Paul have kind of taken the alum level to a new level.
"Who knows? Maybe one of these young guys (on KU's current team) may play to that level one of these days pretty soon."
Self's 2006-07 Jayhawk squad has several players with NBA potential, including the sophomore contingent of Brandon Rush, Julian Wright and Mario Chalmers.
"We may have one or two guys on our team who have a chance to play at that level before it's all said and done," Self said.
The current Jayhawks have been taking part in two hours of individual workouts per week in accordance with NCAA rules.
"We still have seven weeks to go. We're excited," Self said of days leading up to the season-opening Late Night in the Phog (Oct. 13, Allen Fieldhouse).
"We're going to have a fun, athletic group. Hopefully, we'll be unselfish and share it, and our thoughts will be unselfish. If that's the case, we'll be pretty good. If it's not, we'll labor like all teams labor. I suspect these guys are pretty focused."
Of incoming freshmen Darrell Arthur, Sherron Collins and Brady Morningstar, he said: "They look like freshmen. They have their moments where they tease you, and moments where you think, 'These guys are a little behind.' I don't know if there's been a freshman come through here, even the great ones, where you didn't think, 'This guy has a long ways to go.'
"Certainly there's some talent there."
Asked if any players had starting spots wrapped up, Self grinned and said: "There are not guaranteed starters. If I was a betting man, I would think there's a couple who have a great shot at it, but there's nobody guaranteed anything. Hopefully, we'll have enough depth to put some pressure on folks to perform on a daily basis and be responsible, because I think we could go eight, nine deep real easy."
¢ For a good cause: Self is happy to lend his support to the Boy Scouts.
"Boy Scouts has affected so many youth in this area in a positive way," said Self, whose team took second of 27 teams with 108 golfers participating. "In Douglas County alone, there are 1,200 Scouts. This is an opportunity to enhance that and get even more out of what leaders are already doing. To me this is an important deal. To have so many business people and community members want to be part of it is impressive."
¢ Assist foundation being set up: Self is in the process of putting together his own foundation to benefit area youth.
"It will be called, 'Assist,''' Self said. "We'll get that tipped off around the Late Night weekend. Hopefully, we'll raise some money. Just giving back to the community. Certainly, this is a worthy cause, and there are so many worthy causes out there. Hopefully, we can make this place even a little bit better for our youth in Lawrence."
Copyright 2018 The Lawrence Journal-World. All rights reserved. This material may not be published, broadcast, rewritten or redistributed. We strive to uphold our values for every story published.