A specific goal that is made public often comes with scrutiny. Kansas University running back Jon Cornish now knows that.
Last spring after a football practice at Memorial Stadium, Cornish was asked if a 1,000-yard rushing season was something he ever thought about, especially now that Clark Green isn't there to split time with him.
Cornish obviously had pondered it, saying that talks with his offensive line had led to the conclusion that "1,000 yards would be somewhat of a disappointment."
Spicy, huh? Especially considering it's been a decade since any Jayhawk has hit that mark.
Since then, teammates and coaches have been asked about Cornish's claim. Center David Ochoa jokingly deferred any four-figure talk back to the running back. KU coach Mark Mangino said "if he's going to talk the talk, he better walk the walk."
Searching for more, the 1,000-yard questions went back to Cornish for further insight. And the senior from Canada stood by his statement, some four months after it first came out for critiquing.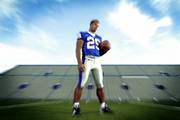 "Look at last season's rushing," Cornish said, as if he was waiting for a chance to explain himself. "If you give me 20 of Clark's plays, I'm at 1,000 yards."
Green, KU's do-it-all back from 2005, had 153 carries to Cornish's 134 last season. Though Cornish became the No. 1 runner, it certainly wasn't from a bunch of touches - in seven of KU's 12 games, Cornish had 10 carries or less. He still ran for 780 yards and nine touchdowns, leading the team in both categories.
Now, in 2006, there's 153 carries Green leaves behind to redistribute. There's an extra game on the regular-season schedule. There's an offensive line that returns a lot of proven players. And there's Cornish, more seasoned from a year of on-the-field training.
So why do the eyebrows raise about his goal? Is it just the history? KU is in its second-longest lull between 1,000-yard rushers since the first, Wade Stinson, hit four digits in 1950. The most recent was June Henley, who needed 30 carries a game to get 1,349 yards in 1996.
Journal-World contributing editor Bill Mayer offers his thoughts on KU's past 1,000-yard rushers.
To compare, Cornish had 11 carries a game and was 220 yards shy of the millennium mark last year.
"With the quality of the o-line," Cornish said, "you could put any- ANY - running back back there and he would run for 1,000 yards."
Running the football never has been the concern for KU coaches when it comes to Cornish. It's other things - catching bullet passes from Kerry Meier and being a reliable extra blocker, to start.
"It's like I told Jon," Mangino said, "there's no Clark Green to share time with. There's no Clark Green to shuttle into the game to protect the quarterback in passing situations.
"He's got to be the guy. I think he's taken that challenge very seriously."
Photo Gallery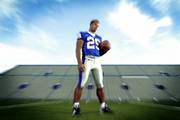 Jon Cornish
Cornish particularly thinks he'll be ready to catch more passes in 2006. Green and Cornish combined for 40 receptions last season, and Green's 25 catches in '05 actually was a down year by his standards. He left Kansas as one of the school's all-time leaders with 122 career catches, despite being a tailback.
Cornish had two touchdown receptions off screen passes in the Fort Worth Bowl, but wasn't seen as much of a receiving threat for the most part.
"It was just something we didn't do last season," Cornish said. "We didn't have to. Clark always had all the passes.
"We had them in (the playbook), but we really didn't need them."
Cornish came to Kansas in 2002 from British Columbia, after sending his highlight tape to each Big 12 Conference school in an attempt to play "the best football in the U.S."
Five years later, Cornish is ready for his swan song, intent on helping make KU's emergence as a competitive college football program a permanent one - perhaps by hitting a four-figure milestone that's been on his mind.
"People would see the Miamis, Nebraskas - those programs seem to have a legacy," Cornish said. "I really think we're building that legacy this year."
KU's 1,000-yard rushers
Year, Name, Games, Attempts, Yards 1950, Wade Stinson, 10, 167, 1,129 1962, Gale Sayers, 10, 158, 1,125 1970, John Riggins, 11, 209, 1,131 1974, LaVerne Smith, 11, 176, 1,181 1975, Nolan Cromwell, 11, 218, 1,124 1980, Kerwin Bell, 10, 228, 1,114 1989, Tony Sands, 11, 216, 1,109 1991, Tony Sands, 11, 273, 1,442 1993, June Henley, 12, 233, 1,127 1996, June Henley, 10, 302, 1,349
Copyright 2017 The Lawrence Journal-World. All rights reserved. This material may not be published, broadcast, rewritten or redistributed. We strive to uphold our values for every story published.