Volunteers in the AmeriCorps VISTA program are known for working with the poor.
But there's a different type of Volunteers in Service to America group in Lawrence this year. Three VISTA volunteers are working at Kansas University as part of an effort to draw more students and faculty into service learning - in which a for-credit class is directly tied to helping solve a community problem.
The efforts can range from providing music therapy to designing a building for a nonprofit organization.
"A lot of faculty and students are already involved in the community, and we're just trying to bring them all together," said Cara Burnidge, one of the three volunteers.
Burnidge, a Washburn University graduate, along with KU graduates Corinne Fetter and Meghan Walsh are working full-time at the Center for Service Learning on the north edge of campus. AmeriCorps is paying them at a level just above the poverty line for their yearlong effort.
The Center for Service Learning existed last year, but it now has a full staff that includes Andi Witczak, director, and Jackson Sellers, assistant director.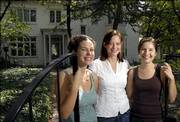 One of its goals is to entice more students to obtain certification in service learning, which involves classroom experience, directed readings and an independent project. They hope to certify 150 KU students this year, up from 91 last year.
Another goal is to expand the number of service learning courses offered on campus. There are about 45 classes offered in 17 subjects including Spanish, political science, business and psychology.
Also, the center will help maintain contacts with community agencies.
Steve Kapp, associate professor of social welfare, has offered service learning courses for about six years. The courses have produced work such as helping Haskell Indian Nations University conduct research to evaluate a freshman transition program, and an outcome study for the Ballard Center.
Kapp said that tying community service to class work "formalizes the volunteer experience." He sees the Center for Service Learning as a sign of KU's commitment to expanding its reach into the community.
"It probably has the potential to have a big impact universitywide," he said. "In certain parts of the university, it has been fairly popular. In other places it has been hard to figure out how to fit that into basic requirements people might have."
More information about the center is available at www.servicelearning.ku.edu.
Copyright 2018 The Lawrence Journal-World. All rights reserved. This material may not be published, broadcast, rewritten or redistributed. We strive to uphold our values for every story published.