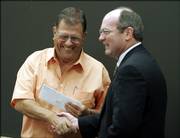 Tears welled in Lisa Friis' eyes Thursday as Kansas University's prize patrol handed her a check for $5,000.
"You put in a lot of hard work with teaching," she said. "You put your heart and soul into it. And this is a 'thank you' more than what we normally get from the students and our fellow faculty. This is a very nice surprise."
Friis, assistant professor of mechanical engineering, was among eight faculty members on Thursday to receive the W.T. Kemper Fellowships for Teaching Excellence.
Each recipient received $5,000. The check dispensing will continue through Monday and will reward 20 faculty in all.
"It's really one of the special moments at KU," said Chancellor Robert Hemenway, who led the patrol for some of the stops. "I do it personally because I think the commitment to good teaching should come from the top."
KU has been distributing the awards for 11 years. They were established by a $500,000 fund from the William T. Kemper Foundation-Commerce Bank, Trustee and $500,000 from the KU Endowment Association.
The prize patrol also stopped at law professor William Westerbeke's class.
"It sort of dawned on me when I saw the cameras go through what was probably happening," Westerbeke said. "Still it's a bit of a surprise."
Westerbeke , who has taught at KU for more than three decades, said he thought the award was wonderful.
"There are many, many benefits given to the very productive scholars and researchers, and I still think teaching is our primary function," he said. "It's very nice to have support for teaching."
Thursday's winners also included J. Christopher Brown, assistant professor of geography and environmental studies; David Frayer, anthropology professor; Bernard A. "Bud" Hirsch, English professor; Shane Lopez, associate professor of the counseling psychology program in the department of psychology and research in education; Thomas Lorenz, associate chairman in the English department; and Ric Steele, associate professor of psychology and applied behavioral sciences.
Copyright 2018 The Lawrence Journal-World. All rights reserved. This material may not be published, broadcast, rewritten or redistributed. We strive to uphold our values for every story published.