If they felt like it, teammates of Kansas University red-shirt freshman quarterback Kerry Meier could tease him frequently.
They could let him have it for being the Golden Boy, The Franchise, the quarterback protected from injury during practice by a vigilant coaching staff. They could tease him for having the look of a lead singer. Think Robert Plant in his prime.
They could, and occasionally even do, taunt the quarterback. When they do, he tells them to knock it off. At the end of the day, though, they keep in mind that Meier is the single player they can least afford to lose, even though his next game snap will be his first.
Three quarterbacks started games for KU last season, which ended with a 7-5 record and Fort Worth Bowl championship. Adam Barmann was the first starter, Brian Luke the next, Jason Swanson the last.
More often than not, the better quarterback played for the opposition. KU passers combined to throw 19 interceptions and just 13 touchdowns. The opposition combined for 15 interceptions and 20 touchdown passes.
Strange as it sounds, the team is looking to a red-shirt freshman to give it the stability it lacked with a musical-chairs rotation of upperclassmen handling the most important position on the field in 2005.
Tailback Jon Cornish is the most accomplished skill-position player on the offense. He rushed for 780 yards and nine touchdowns as a junior, averaging 5.8 yards per carry. Cornish didn't sound as if he needed to see Meier on game day to form an opinion.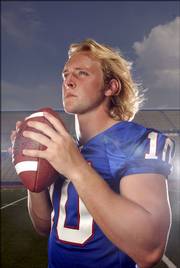 "Kerry Meier, in my mind, has always been a great leader and a great quarterback," Cornish said. "From the second he got here, he just had that special aura around him. I think it's not going to be very obvious that he is a freshman."
Not that Meier has it all figured out already.
"He's made mistakes," Kansas coach Mark Mangino said. "He's made a lot of mistakes."
It's the way Meier reacts to his miscues that pleases his coach.
"He is good at retaining information and he learns from his mistakes," Mangino said. "We seldom have to tell him the same thing twice."
There is always the fear that a young quarterback will grow gunshy when mistakes surface. He'll stop taking chances and make the safe play all the time. The NFL quarterback Meier mentions as his favorite to watch, Green Bay Packers future Hall of Famer Brett Favre, doesn't take that approach. He's bold, forcing the ball in there, sometimes to make plays where seemingly there was noting to be had, other times to turn it over. Favre is bold. Asked if he will be bold, even after mistakes, Meier didn't back up an inch.
"The ball is in my hand 100 percent of the time, so I am going to have to make plays," Meier said. "If Kansas is going to win ballgames, I am going to have to make plays, whether it's doing it myself or getting it to my teammates. As long I get the ball to my teammates, good things will happen."
Next to "sawing wood," the most spoken words in the KU football program are the ones about the next play being the most important. Mangino gives Meier high grades for following that credo.
"I stick by that motto after anything bad happens," he said. "You just have to take it in and learn from it."
Meier will see defenses he hasn't seen. He'll be tricked into bad throws. Yet, according to KU's best defensive back, he isn't likely to throw as many picks as most quarterbacks with so little experience.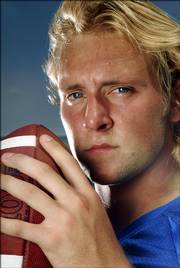 "I can't intercept it, because he knows where to throw the ball," cornerback Aqib Talib said of Meier. "I probably haven't ever played a quarterback who was able to do that. He throws it where I can't intercept it."
Talib gushed over Meier's anticipation skills, saying he'll adjust and throw it to a receiver's back hip when he senses the defender might make a dive for it.
Meier will perform on a mini-stage today. The 3:45 p.m. practice is open to the public. A year ago, he had a shaky practice in front of fans on a day that Barmann shined. During the spring game, Meier was the most impressive player on the field. Clearly, he didn't waste a red-shirt season that included a procedure to combat a heart ailment.
Asked how much more ready he is now than he would have been had he opened his true freshman season as a starter, Meier answered: "I don't know because I didn't do it, but I think it's probably night and day."
Still, he won't be asked to be a senior from the first game.
"We want to put him in a position to succeed early," Mangino said. "We don't want to ask him to do something he is not capable of doing yet. We also want to have a good teaching progression and a good foundation. We want to lay the basic principles down of our system and the quarterback position and build upon those in blocks. We don't want to throw him out into tough situations before he is able to grasp each layer of what we're trying to teach."
Barring injuries, getting to know a new quarterback every few weeks won't be a part of the learning process for the rest of the players in the huddle. That alone is reason to make KU more confident about its quarterback situation.
Copyright 2018 The Lawrence Journal-World. All rights reserved. This material may not be published, broadcast, rewritten or redistributed. We strive to uphold our values for every story published.