Fifteen minutes into their first practice in pads, Lawrence High football players swarmed the equipment trailer to gather hip pads and other gear.
"It's total chaos," coach Dirk Wedd said. "Even though we told them to try their pads on and everything, there's always the kids who fail to put in their thigh pads in the right places."
With the players dressed in full pads, the coaches ran them through their first contact in more than nine months Thursday at LHS.
The most lively hitting occurred when the varsity offense ran plays against the sophomore defense.
For some sophomores it was their first day of high school football in full gear.
"They're sophomores," senior wide receiver/defensive back Nathan Padia said. "So it's always fun to rough them up a little bit and get them used to high school. ... It's all in fun, though."
During those offense vs. defense sessions, senior tight end/linebacker Nick DeBiasse made one of the plays of the day, hauling in a deep ball, which would have gone for a touchdown. The reception caused the rest of the team to erupt in cheers - and for good reason. It bodes well for DeBiasse, who suffered a lower back stress fracture during baseball season in April while making his first career start as a pitcher. He has practiced all week and said he will play in Lawrence's first game Sept. 1.
"It's doing real well," DeBiasse said. "In a couple of weeks, I should be ready to go."
Before the first contact session began, Wedd called the entire team together. The Lions kneeled with their helmets off, facing their head coach. Wedd then spent five minutes instructing his players on the proper way to tackle to avoid neck injuries. He emphasized keeping the eyes open and placing the helmet on the outside of the ballcarrier.
"(It's) just a little refresher for everybody," Padia said. "You don't want any injuries, especially on the first day because everybody wants to go hard."
While many LHS football players looked forward to the first day of contact, they did not relish the sweltering heat. When practice began at 3:35 p.m., the temperature was in the mid-90s.
"It was rough without the pads. Once we put them on, it was something else," senior safety/slotback Travis Gage said. "(But we are) getting a lot of water in us. So we're all right."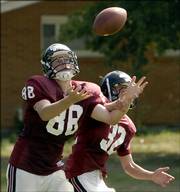 In addition to giving his team several water breaks, Wedd had set up a shaded tent near water coolers in case any players developed severe dehydration.
After a two-hour afternoon practice, the players had a 90-minute break in an air-conditioned area to eat, hydrate and watch film of their just-completed practice. The team then hit the field again at 7 p.m. for a defense-intensive second practice. All in all the rigorous day meant more than four hours of football and a short recovery for Friday morning classes.
"These next two days are hard on the kids," Wedd said. "But I've been doing this long enough to know you've got to prepare these kids. We have three weeks to get them ready for a great opponent. We can't cut corners."
The long Thursday served as an introduction to their equipment, but Friday will feature more live contact, including tackling exercises like the "Oklahoma" drill.
"It's a big day," Gage said. "That's when we find out who's a man and who's not."
Copyright 2018 The Lawrence Journal-World. All rights reserved. This material may not be published, broadcast, rewritten or redistributed. We strive to uphold our values for every story published.