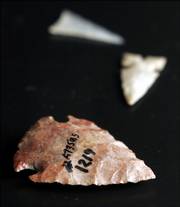 Kansas University's Biodiversity Institute is taking over management of the archaeological collections that were once part of the museum of anthropology.
"These changes are designed to improve access, to improve support and to get us to think in new ways," said Mary Lee Hummert, associate vice provost for research.
The collections include more than 1 million archaeological artifacts. KU in 2002 closed the Museum of Anthropology. It's now called Anthropological Research and Cultural Collections. The artifacts have remained in use behind the scenes by researchers and students.
Biodiversity Institute director Leonard Krishtalka said the change contributes to the university's goal to foster interdisciplinary teamwork.
"I can foresee a lot of research and educational activity involving faculty and staff units collaborating more than they have before," he said.
Mary Adair, formerly interim director of Anthropological Research and Cultural Collections, will be associate curator for the archaeological collections.
Pieces in the collections were gathered by KU faculty over the years as well as by donations and gifts. Researchers gathered stone artifacts, pottery and other materials from sites now covered by Clinton Lake and Kansas Highway 10, for example.
Such items are used by students for theses and dissertations and for research projects.
John Hoopes, associate professor of anthropology, said he hopes the management change spurs more research than has taken place so far and that the work will be innovative and beneficial to the public.
The management change does not include the ethnographic collection, which will be overseen on an interim basis by curator Thomas Foor.
Ultimate oversight of the collection will be finalized at a later date.
Copyright 2018 The Lawrence Journal-World. All rights reserved. This material may not be published, broadcast, rewritten or redistributed. We strive to uphold our values for every story published.