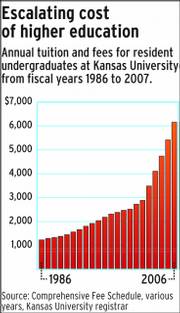 It's not as cheap as it used to be, but Kansas University administrators maintain tuition is still a bargain.
"When you compare our tuition to other like institutions, we would not seem to be too high," Chancellor Robert Hemenway said.
The Board of Regents in June approved the final leg of a five-year tuition enhancement plan.
KU resident undergraduates will pay $5,512.50 for tuition next year - a 14.3 percent increase from 2005-06. They'll also pay $640 in fees.
The increase follows several years of double-digit percentage increases. Though some students grumble, KU administrators say the increases were necessary for the school's growth and well-being at a time of tight state budgets.
"We've been able to maintain the quality of a KU degree at a time that it could have slipped," Hemenway said.
Revenues from tuition increases have paid for salaries increases, new positions, technology enhancements and other perks. A portion of tuition revenue also has been set aside for tuition grants.
KU listed how the funds were spent last year on the Lawrence campus.
More than $2 million was set aside for new faculty and programs. About $2 million was earmarked for salary increases.
And funds were allocated for unclassified staff salary increases, libraries, school operating expenses, new staff positions and program support, student wages and graduate teaching assistant positions.
KU's funding had dropped to 80 percent of the average funding at peer schools, including the University of Colorado-Boulder and the University of Oklahoma. A tight state budget made additional state funds unlikely, so KU made the case to raise tuition.
Hemenway said there was no question that the university was at a crossroads.
"The very fact that the students came to us and said they were willing to be part of a tuition increase shows the kind of crisis state we were in," he said.
Before the enhancement plan began, KU explored what areas needed to be focused on to keep KU competitive.
"We spent a lot of time figuring out how much we should (raise) and what to do with the money," said Lindy Eakin, vice provost for administration and finance. "Administrators asked themselves: 'Where are the gaps? What are the things we aren't able to do because of the money?'"
Resident tuition and fees climbed 20.8 percent in 2002-03, 17.7 percent in 2003-04, 15.5 percent in 2004-05 and 14.3 percent in 2005-06.
The latest increase raised concerns for one Regent. Outgoing chairwoman Donna Shank, of Liberal, voted against increases at KU and Kansas State University.
"It's not a personal thing," she said. "It's not about the job they're doing."
Shank said the increases were too much, too fast, and the burden on students outweighed the benefits to the universities.
KU Student Body President Jason Boots said his predecessors agreed to the plan.
"I support the decisions that were made before I came to this university," he said.
On top of tuition, many students pay differential tuition, which is the sum charged with a school and spent within the same school. Eleven different areas charge differential tuition, and the rates vary from $13 for the journalism school to $124.80 for pharmacy school. All differential tuition rates increased by 4 percent recently.
But the times of big jumps are over for now, Eakin said.
"We've made the big advance," he said.
KU has been floating the idea of a guaranteed tuition plan that would start in fall 2007. In that plan, incoming students would pay the same tuition rate throughout their first four years. That rate already would be adjusted for anticipated tuition increases over the four years. Eakin said he expected those increases to be in the 4 percent to 5 percent range.
It's a plan that many find desirable.
"It is really nice to come in and know exactly what you're gong to be paying," Boots said.
And some view it as a way to encourage students to graduate on time.
"It certainly reinforces the notion of four-year graduation, which is important to us," Eakin said.
But neither tuition enhancement nor guaranteed tuition will solve all of what KU administrators say the campus needs.
KU and the other Kansas schools say they need more than $600 million to cover a maintenance backlog and to pay for continued upkeep of aging buildings.
The Regents proposed a plan that included raising the statewide sales tax by 1/10 percent for 10 years and increasing property taxes by 1 mill to cover the problem.
But higher education officials had to compete with K-12 education for the legislature's attention as lawmakers responded to a Supreme Court order to increase school funding.
"They recognized the problem, and that's step one," Eakin said. "They just weren't ready to take on a $580 million problem yet."
Copyright 2018 The Lawrence Journal-World. All rights reserved. This material may not be published, broadcast, rewritten or redistributed. We strive to uphold our values for every story published.