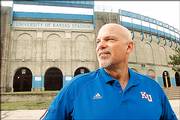 David Lawrence swears his daily routine won't change.
He'll still watch game tape of Kansas University football games. He'll still hang out at practices, chatting with coaches and players.
"The vantage point is the only thing that's going to change," Lawrence said.
Instead of reporting from the sidelines, he's moving to the broadcast booth, a seat he inherits from a KU legend, Max Falkenstien.
Falkenstien retired from broadcasting after the basketball season. Earlier this summer the KU Athletics Department and ESPN announced that Lawrence would become the "Voice of the Jayhawks," along with play-by-play announcer Bob Davis, during football games this fall.
Lawrence has earned the spot, working as a sideline reporter since 1994. He also worked with the Jayhawk Radio Network and Sunflower Broadband after his playing days on the KU offensive line ended in 1981.
But when talking about his new, high-profile duties during KU football games, his voice lowered, his words modest.
In his mind, he said, he's just a hacker, a former player who just wound up broadcasting by happenstance.
He thought he was going to coach after spending time on the sidelines as a graduate assistance.
"The broadcast thing was the next best thing," he said.
Lawrence said he's a football player at heart, and broadcasting was just his way to stay close to the game.
That's why he loved sideline reporting so much, he said. Heck, he still does. It's the rush, he said. The feeling of being right there, mulling with players.
But here, on his couch inside his West Lawrence home, the sights and sounds came rushing back.
Fresh cut grass. The cadence of quarterbacks. The ringing clack of helmets hitting shoulder pads.
"It takes you right back, you know," he said. "You're right there."
Now, he said he knows the broadcast booth won't be the same. But in many ways, he said, it will be better.
Oftentimes during broadcasts while he was patrolling the sidelines, Davis would ask Lawrence for his opinion on a play on the field.
Sometimes Lawrence saw the play. But from his limited vantage point, sometimes he didn't. Now, Lawrence said, he'll catch every play, watch them develop, see everything.
"You're right there, in charge of the game," he explained.
Now, he said he's ready to step into the booth, to take over the reigns for Falkenstien and begin the process of creating a chemistry with Davis.
But he knows he'll never replace what they had, an on-air relationship that he called one of the best in college sports.
"We'll miss that side with Max," he said.
Copyright 2018 The Lawrence Journal-World. All rights reserved. This material may not be published, broadcast, rewritten or redistributed. We strive to uphold our values for every story published.