Preparing for a photo shoot, linebacker Joe Mortensen answered questions in his blue No. 8 jersey, which he changed symbolically from No. 37 for the 2006 season.
"I wanted a new start," said Mortensen, a red-shirt sophomore. "I'm ready to take over this year."
The Kansas University faithful hope that is the case. Mike Rivera, James Holt, Jake Schermer, Eric Washington and Mortensen will have their work cut out for them as they try to replace three departed senior linebackers.
"They've heard a lot and read about the question marks," linebackers coach Mike Mallory said. "They've seen the work ethic and productivity and how those guys played. They certainly want to live up to that and continue the tradition."
Last year's starting linebackers - Nick Reid, Kevin Kane and Banks Floodman - finished 2005 as the team's top three leading tacklers, respectively, and guided this year's younger crop. Mortensen, who recorded four tackles in 12 games in his first collegiate game action last year, and the red-shirt freshman Schermer are vying for Reid's vacated weakside OLB position.
"It's going to be interesting," Mallory said. "Jake's doing a good job. He's really again showing some improvement."
Both players will have to improve to replace Reid. Now an undrafted free agent with the Kansas City Chiefs, Reid racked up 112 tackles, three sacks, two forced fumbles and an interception in 2005. During that season he taught the fiery Mortensen to keep a level head and how to analyze his opponents. Mortensen credits that film study for Reid's awareness on the field.
Mortensen, however, wants his opponents to have a skewed awareness of him. The 6-foot-1, 245-pounder not only sought a fresh start with his new jersey number but also a deceptively slimming figure.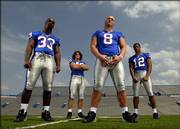 "I wanted to come out in a single digit and look skinny," he said. "So people think I'm small, and then they (try and) hit me."
If his opponents do not hit him first, Mortensen will happily oblige. He "loves contact." Indeed, his favorite experiences from 2005 did not come as a reserve linebacker but as a special teamer. The Concord, Calif., native relished the collision that ensued when he broke through the offensive line's wedge during kickoffs. Mortensen brings that same tenacity to the linebacker position.
"He's always going 100 miles an hour," Mallory said. "He wants to get after you."
Said Rivera: "He's a hard-nosed player. He just goes around and hits people."
To maximize that hitting power, Mortensen - in addition to focusing on his footwork and agility - spent the offseason improving his lower body explosion. He can max out at 400 pounds on the bench press and 500 pounds on the squat but emphasized speed squats, doing sets of 300 pounds as fast as he could.
His work ethic and strength helped him earn the MVP award at Nebraska University's summer football camp in 2003, and head coach Frank Solich rewarded him with a scholarship offer. But Nebraska fired Solich toward the end of the 2003 season and hired Bill Callahan, who declined to continue recruiting Mortensen. He then opted for Kansas instead.
He said he enjoys playing for Kansas and expressed happiness in the way things worked out. But Mortensen cracks an eager smile when discussing the team's first Big 12 contest in 2006 - the Sept. 30 game in Lincoln, Neb.
"They didn't think I was at a Nebraska-type of level," he said. "We'll see."
And it's not like this linebacker needed extra motivation. As one of the team's self-starters, Mortensen rarely needs Mallory to provide him with extra incentive.
"He's a guy that's an easy button to push," Mallory said. "He's ready to go every time."
Copyright 2017 The Lawrence Journal-World. All rights reserved. This material may not be published, broadcast, rewritten or redistributed. We strive to uphold our values for every story published.