The March microburst storm that tore an unpredictable swath through Lawrence and Kansas University's campus left one piece of good news.
"The only good thing about the whole thing is there weren't any injuries," said Mark Reiske, Kansas University's associate director for design and construction management. "If we'd had kids on campus - if it had been a Monday at the same time - there literally could have been people killed."
Reiske is among those at KU working to rebuild what was destroyed in the short storm that caused about $6 million in damage to KU.
Cleanup work began on the day of the storm and will continue through the fall. But KU hopes to have the work complete in time for winter, Reiske said.
The storm shredded and uprooted trees, ruined roofs, shattered windows and damaged cars. The damage forced KU to cancel classes for a day for cleanup.
More than 70 of KU's 116 buildings suffered damage in some way, KU officials have said.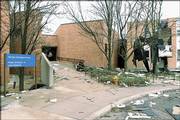 KU officials have said the campus would have fared better if the university had the funds to maintain facilities, a statewide issue the Legislature has not yet addressed.
Several buildings needed new roofs, including the Danforth Chapel, Blake Hall, Computer Services Facility, Parker Hall and Gertrude Sellards Pearson Residence Hall.
The storm also caused significant damage to the Art and Design Building and Dyche, Fraser and Twente halls.
The damage to Danforth, a popular spot for weddings and social occasions, forced many couples to make new plans for their big day. The chapel was closed because of roof damage and is expected to remain closed until this month.
Becky Dunavin, senior administrative assistant with KU's Student Involvement and Leadership Center, said the calls had been nonstop with inquiries into the chapel's condition and availability.
"We get at least one call a day," Dunavin said. "It's been a real headache for everybody."
In all, the storm caused about $5 million in facilities and grounds damage, Reiske said. But KU had other costs, including overtime pay for employees who assisted with cleanup.
Funds from the Federal Emergency Management Agency are expected to cover the bulk of the damage. Though the total payout won't be known until the work is complete, it is expected to be more than $3 million, Reiske said.
"When it all gets said and done, we'll have a real number," he said.
Of eligible projects, FEMA will pay 75 percent of work costs for projects over $57,500, Reiske said. And for those projects costing less than $57,500, FEMA will pay 75 percent of estimated costs.
The winds were so fierce, they twisted the light poles at Memorial Stadium.
"The forces that were involved were significant," Reiske said.
Copyright 2018 The Lawrence Journal-World. All rights reserved. This material may not be published, broadcast, rewritten or redistributed. We strive to uphold our values for every story published.