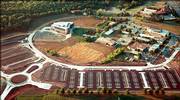 Tired of facing the gauntlet that has been the parking situation on Kansas University's campus?
The Parking Department looks to end to those struggles via the Park & Ride program, set to unveil Monday. It will feature a 1,500-space Park & Ride lot served by a free express bus to both the main and west campuses.
The lot is located at Clinton Parkway and Crestline Road.
"I think (Park & Ride) is going to be the best deal in town," said Donna Hultine, director of parking and transit for KU. "It's going to be something that you don't even have to think about."
From 7 a.m. to 10:30 p.m. weekdays, the buses will depart the Park & Ride lot every six minutes at peak times, and eight to 10 minutes during nonpeak periods. After 5:30 p.m., the departure intervals will increase to 20 minutes. Estimated time from the lot to main campus is 10 minutes.
"You drive straight to the lot and hop on a free bus that will take you pretty much anywhere you want to go on campus in air-conditioned comfort," Hultine said.
The Park & Ride Express will feature five, 35-foot-long ADA-compliant buses that carry about 50 passengers. Each of the buses sports the traditional KU crimson and blue, as well as the logo and Jayhawk.
To ensure safety, the lot is well-lit and equipped with surveillance cameras, Hultine said.
A Park & Ride permit is $205 for the year. Permits are available through the Parking Department. Students purchasing Park & Ride parking permits also receive free KU on Wheels bus passes to reach areas of campus not served by the express bus. Normally, the pass would cost $140.
West campus shuttling
Guaranteed parking is one benefit to those using the new lot. The lot will also provide 50 parking meters for visitors and 24 spaces for people with disabilities.
Last year's Park & Ride lot at the Lied Center will no longer be used for this program. It will instead be dedicated to visitors of the Lied Center and Dole Institute of Politics, as well as overflow parking for the Daisy Hill residence halls.
Introduction of Park & Ride follows a year of planning. At the end of the 2005 spring semester, the provost appointed a task force of students, faculty and staff to find the best means to transport people to and from the parking area.
Danny Kaiser, assistant director of parking and transit for KU, said continued growth in population on the west campus was a reason why Park & Ride is viable transport.
"This is going to be an opportunity for people to know where to go and always be able to find a place to park. If you come to park in the Park & Ride lot, there will be room for you there," he said. "You can just pull in, park and walk to one of four bus stops along the parking lot."
Prior to the program, those whose responsibilities required them to travel from west campus to main campus were left to hunt for parking spots each trip.
The bus service portion of the program will make it possible for those shuttling back and forth between campuses to retain their parking spots.
More time, less traffic
"For those who drive, eventually we want people to be able to come to work, park their car and not get in their car again until they're going to leave for the day," Kaiser said.
"It eliminates all of that hunting time and then it eliminates, for most people, the long walk. It's going to be a time-saver and reduce traffic on campus because there will be fewer cars."
Operational costs for Park & Ride are funded through the parking department's budget, as well as a $20 increase in parking permit prices across the board. According to Kaiser, federal funding through the Kansas Department of Transportation covered 80 percent of the cost for buses, while KU provided 20 percent.
Kaiser said while his department was confident in the new service, he looks forward to further development.
"People need to understand that this is just the first year of operation and that we will serve campus more broadly in the future," he said. "Park & Ride will get better with time, but it's off to a pretty darn good start already."
Copyright 2018 The Lawrence Journal-World. All rights reserved. This material may not be published, broadcast, rewritten or redistributed. We strive to uphold our values for every story published.