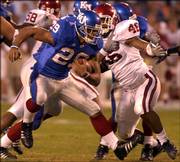 Really, Kansas University running back Jon Cornish was no different than any gifted playmaker coming off a high school football field.
"When he came to us, all he did was run the ball," offensive coordinator Nick Quartaro said. "In his case, he outran everybody all the time and just took off, got around the edge and that was it."
That was it - all Cornish grasped, because really, that was all he was asked to understand.
So when he came to Kansas, Cornish found himself buried behind Clark Green. While Cornish's self-admitted content attitude his first couple of years had something to do with the lack of playing time, Green just did things with grit that Cornish never tried.
He picked up blitzes. He caught passes out of the backfield. He pounded and bruised his way for three yards when two was all that was needed.
Big plays weren't all that was important. Being well-rounded maybe meant more.
For the last year, Cornish has strived to be that kind of running back. With one season left at KU, Quartaro said his starting tailback is almost ready to be fully functional.
"We'll be the first to admit that that's still something that needs to be improved upon," Quartaro said. "But he's a long way away from where he used to be."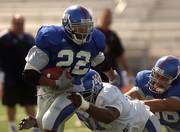 Four-figure rushing?
Cornish and his offensive line have discussed passing the 1,000-yard barrier in 2006, a realistic feat in a 12-game season if Cornish gets enough carries. He doesn't expect to get all of the work, though - his special teams prowess is a gift, and backup Angus Quigley and fullback Brandon McAnderson can fill in carrying the ball.
But don't expect Cornish to sit out too long, if at all.
"Physically, he's in great shape, and he's always one of the best-conditioned guys we have on our football team," Quartaro said. "I think he proved that last year. Even though he was sharing time with Clark, there were times when he was in there two or three series in a row. Or when Clark was dinged up, he got the bulk of the work and seemed to hold up fine."
Cornish is an important piece of what could be KU's best offense since 2003.
Led by freshman quarterback Kerry Meier, an experienced line and a few capable receiving targets, Kansas has enough experience and options to maintain an offense that was productive by the Fort Worth Bowl after digging out of a midseason funk.
Cornish had 780 yards rushing and nine touchdowns, leading the Jayhawks' ground game despite getting 19 fewer carries than Green last season.
Receiving needs boost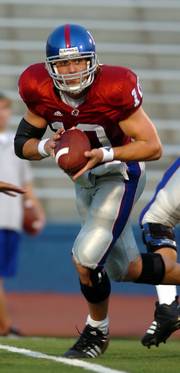 But receiving - a must in KU's spread offense - was where Cornish was no Green. In the 11 regular season games, Green had 25 catches for 219 yards. Cornish had 13 catches for 96 yards.
"As a high school tailback, it's 'give me the ball and let me run,'" Quartaro said. "Here, you're one of 11, and that running back has a ton of things he's responsible for in terms of pass protection, blitz recognition, different reads on his runs and things of that nature."
Cornish became a sponge, and ended his junior season with two touchdown receptions in the Fort Worth Bowl. He then rushed for 60 yards in the spring game, while questions about how the Canadian would be used in 2006 started to surface.
Much of Cornish's utilization might depend on Quigley, a red-shirt freshman who Quartaro said has bulked up to almost 220 pounds in the offseason.
If the Cleburne, Texas, native can pick up carries without much of a dropoff, Cornish might be spread more between the backfield and special teams.
Cornish said during the spring he wanted to continue being a gunner on the punt team and would be willing to do other special-teams work, but added he wanted to be "fresh" at running back.
As of July, the Cornish question still had no sure answer.
"I think a lot is to be determined," Quartaro said. "We really haven't sat down and talked about workload or number of touches or things of that nature. In August, we'll decide that."
Cornish has been working on making it harder not to line him up behind Meier consistently. The running part wasn't what was difficult. The versatility part - that's the challenge Cornish now is tackling.
"I think he's more of a complete player than he's ever been since he's been here," Quartaro said, "and that's due to his hard work."
Copyright 2018 The Lawrence Journal-World. All rights reserved. This material may not be published, broadcast, rewritten or redistributed. We strive to uphold our values for every story published.