Beginning this fall, KU students residing in scholarship halls will have something more to look forward to than their study-oriented dorm rooms.
Following extensive renovations to a house built in 1892, the Wilna "Willie" Crawford Community Center will offer all scholarship hall residents a comfortable place to congregate.
The community center, 1346 La., provides a central locale for those residing in the scholarship hall community.
"(The community center) is intended to serve as a gathering space for the scholarship halls, offering additional programming space for the All Scholarship Halls Council to meet and work out of," said Diana Robertson, interim director of the KU Department of Student Housing.
"It's coming along well. We've completed the first phase of the project, which was getting the foundation and the structure of the house reconstituted."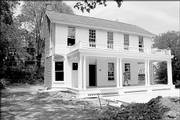 Upon completion, the interior will feature a living room setting furnished with soft seating. In addition, there will be a conference room and kitchen space. The building also will have an apartment and office for the scholarship hall complex director.
The community center will be surrounded by landscaping through an area known as Strait Park.
Former scholarship hall residents Tom and Jann Rudkin of Sunnyvale, Calif., funded the renovation. According to the KU Office of University Relations, the Rudkins donated $300,000 to the project. The community center's name is in memory of Jann's late mother.
The property was formerly owned by the late Reginald and Juanita Strait, who bequeathed the house, along with half of their estate, to the KU Endowment Association.
Reginald Strait was a physical education professor and Juanita Strait was a longtime piano teacher who befriended many scholarship-hall students.
Copyright 2018 The Lawrence Journal-World. All rights reserved. This material may not be published, broadcast, rewritten or redistributed. We strive to uphold our values for every story published.