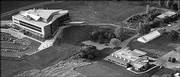 Come this fall, Kansas University will have another $20 million sign that it is committed to being one of the top drug development research universities in the country.
In September, construction is expected to begin on a 35,000-square-foot expansion of the Structural Biology Center on KU's west campus.
"We think of this as a top-notch drug development center," said Kevin Boatright, director of research communications for KU.
The project will provide laboratory space to researchers in a variety of scientific fields. One floor of the building will be devoted to laboratory space that will be used to test and evaluate which types of drug compounds have promise.
The center will play an important supporting role to the Cancer Center at the KU Medical Center, although university leaders are stressing the west campus building will do more than just cancer research.
"This is pretty critical for continued research at both campuses," said Theresa Klinkenberg, chief financial officer at KU.
The expansion is expected to cost upwards of $20 million. The State Finance Council, composed of Gov. Kathleen Sebelius and legislative leaders, approved the issuance of up to $20 million in bonds in June.
The bonds will be paid off using portions of federal research grants that KU receives. Most federal research grants include a percentage of dollars that are allowed to cover indirect research costs, such as the cost of new facilities.
"The nice thing about it is that it will not require any state tax dollars," Boatright said.
The project also continues the momentum KU has as a drug development research institution. The National Institutes of Health recently reported that KU's School of Pharmacy was the third most well-funded school of its kind in the nation.
The university also has several researchers who have developed successful products or technologies that have led to major licensing agreements with pharmaceutical companies. Some KU researchers also have created their own spin-off companies, such as Lenexa-based CyDex, to develop their discoveries.
Because the research is done at KU, the university routinely receives royalty payments from the sale of drugs that have been successfully developed using KU research.
Boatright said the expansion would give KU researchers much-needed space, which could lead to more KU-researched drugs and products in the marketplace.
"We have a very entrepreneurial spirit here," Boatright said. "Researcher Tak Higuchi came here in the 1960s and brought that with him. He said in addition to doing good research and good teaching, we have the opportunity to develop products that can really help people.
"There continues to be a real spirit on the part of the faculty to want to do that."
In 1989, KU and the state established the Higuchi Biosciences Center on west campus. The expansion of the Structural Biology Center will be near the Biosciences Center and the new $40 million Multidisciplinary Research Building.
Boatright said the latest project would help create a synergy and an efficiency for KU research efforts. He also said there was space for additional development near the buildings. He said there had been discussion that the west campus area would be a good location for a new building to house KU's pharmacy school.
"I can tell you that it is by no means the last building to be built in that area," Boatright said.
Copyright 2018 The Lawrence Journal-World. All rights reserved. This material may not be published, broadcast, rewritten or redistributed. We strive to uphold our values for every story published.