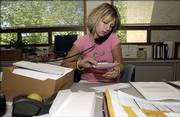 No weekend work. No stress. Flexible scheduling.
Emily Bucher's part-time office job at Kansas University is a dream.
"I'm happy here," the KU junior said. "I think that I'm appreciated here."
Bucher, who works in the art and design departments, is one of the hundreds of KU students who look no farther than campus for work.
As the new academic year nears, many students will be scurrying for the coveted work where locations are convenient and the supervisors are generally understanding of student schedules and needs.
"They are pretty competitive," said Ann Hartley, associate director of the University Career Center. "You do have to be very persistent."
Students apply online at jobs.ku.edu. The ease of applying has likely boosted the number of applications, Hartley said. Last year, more than 27,000 applications came in for 1,430 jobs posted on the site.
Student jobs are available across campus. Students watch the front desks in the libraries and in administrative offices. They're in the galleries and ticket booths and behind the stage of theater performances. They write parking tickets and even help tow illegally parked cars.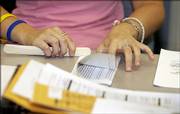 And while some student workers might not perform up to par, generally they're a good group, said David Moore, field manager for parking and transit at KU.
"Some try to press it. For the most part, we've got a great core of students here," he said. "They go out and they do what we ask. They do their job and they're serious about it."
Hartley suggests students apply for as many jobs as they desire and are qualified for.
"It really is a numbers game," she said. "If you apply to enough, you'll find something."
KU is raising the minimum wage for the fall, upping the bottom figure from $6.50 to $7. Many schools in the Big 12, including Texas Tech University and Baylor University, don't set the bar above the federal minimum wage of $5.15.
KU's increase is a bonus for students like Bucher who already like their work.
"I've been here for a year now," she said. "So it's going well."
Copyright 2018 The Lawrence Journal-World. All rights reserved. This material may not be published, broadcast, rewritten or redistributed. We strive to uphold our values for every story published.