Most people wouldn't trust an 8-year-old to paint their car.
Then again, most people don't drive a Ford Tempo that was once plastered with 1,000 fast food toys, transformed into a rolling nightmare and then finger-painted and glittered to within an inch of its carburetor's life.
But Tamra Birchfield isn't like most people, and her car is most certainly one of a kind.
A few weeks ago, after the transmission in her Mercury Sable gave out, Birchfield needed a vehicle to get her to work every day. That's when Pat Slimmer, owner of Slimmer's Auto Service, 2030 E. 23rd St., made her an offer she couldn't refuse. One hundred dollars later, she was the proud owner of a glittery, paint-splotched Ford Tempo that had been in Lawrence's annual Art Tougeau Parade for three straight years, each time as a new incarnation.
Each year the Tempo rode alongside some of the wackiest creations on wheels. There was the recycle cycle, a jalopy-style vehicle made of completely recycled material, the lawnmower brigade, the street-illegal UFO car, the boat car and the upside-down bike, just to name a few. And who could forget the swimming pool on wheels, a roofless car lined with plastic, filled with water and driven by its bathing-suit clad creators? Parade organizer Margaret Morris says that every year brings new surprises.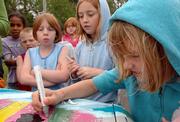 "You never know who you're gonna get till the day of the parade," Morris says. "I think it's kind of the nature of art car."
Pimping her ride
Slimmer, who has helped organize the Art Tougeau Parade for three years and participated in it for a decade, plans to unveil his latest creation Saturday. It's a beer-cap mosaic masterpiece complete with a peace sign, blazing sun and flames licking up from the wheel wells. Slimmer collected the caps from local bars and stuck them one by one onto a Dodge Neon with silicone. He says the spirit of the parade reflects that of Lawrence.
"It's fun, you know, it's kooky. It kind of brings out the artistic side of everybody," Slimmer says. "It's kind of like Lawrence. Lawrence is a little different. Lawrence is fun."
Parade entries are limited to anything that is "art on wheels," which means if it rolls, it gets a place in line.
"That's the thing that's great about the parade. Kids can decorate their tricycles and enter the parade," Morris says.
Slimmer, who first entered the Tempo in the parade three years ago as a "toy car," suggested that Birchfield re-enter the car in this year's parade, which takes place Saturday. Needless to say, she took the advice.
"That's kind of fun because that's going to be the fourth art car," Slimmer says. "That car keeps getting recycled."
Two years ago, Slimmer peeled off the toys and donated the Tempo to Lawrence High School art students, who mounted sculptures representing their worst fears - think the Ebola virus and dismembered dolls. Last year, the car went to kids at Art in the Park, who finger painted the body with primary colors.
Past Event
When: Saturday, May 6, 2006, noon
Where: Downtown Lawrence, Lawrence
Cost: Free
-->
-->
Since Birchfield works with kids all day - she's a reading paraprofessional at Broken Arrow School and a teacher for Art Smart, an after-school program sponsored by the Lawrence Arts Center - the idea for the car's new design seemed obvious.
"If I'm going to have a car that's painted by kids, then I'd rather have it by kids that I know," Birchfield says. She proposed the idea to her second- and third-grade after-school students at Woodlawn School, and it was an immediate hit.
"Some of the kids were like, 'We're gonna pimp your ride!'" Birchfield says.
'They went really crazy'
The new class project fit right into class curriculum.
Photo Gallery
And the wheel goes 'round ...
Here's a look at the many lives of Tamra Birchfield's inherited Ford Tempo, which will make its fourth appearance in this year's Art Tougeau Parade:
"Our theme for this semester has kind of been adventure and finding art in everyday life," Birchfield says. "And so this is pretty cool for us to say, 'All right, guys, we're going to put our money where our mouth is. Paint the car! This is going to be a part of my everyday life, this is your art that's going to be with me every day.'"
Chaskà Frank, a 9-year-old Woodlawn student who lists his likes as "drawing, drawing, drawing, swimming, drawing :," says that Birchfield's car was in desperate need of a makeover.
"Before we painted it, it was all messed up with glitter and color all over it," he says. "We were like, 'BOOOO!'"
So when Birchfield asked each student to draw a design on paper that he or she thought should be painted on the car, Frank went wild.
His design featured a long, angry, flame-breathing dragon with fiery scales on the passenger-side door. He left room near the rear tire for a tornado, and even thought to put in a graveyard near the hood for the dragon's victims.
Frank's design made it onto the car. Other prominent designs include yellow flowers against a blue sky, a phoenix rising from the ashes, the Chicago skyline and bunny rabbits. Birchfield says she incorporated ideas from the whole class into the car's overall design. The only thing more chaotic than the designs themselves might have been the day the students painted them on the car.
"They went really crazy," she says. "And it's funny because we didn't tape anything off. You don't think about the fact that they don't know what headlights are for. So in the middle of their design is the headlight, and they were just going to paint over the headlight. We had a couple of near-tragedies in artistic integrity there."
'Your car rocks'
Birchfield will drive her new art car in the parade on Saturday. Her student artists will get to walk proudly beside their masterpiece.
Though the Tempo should fit right in with the Art Tougeau crowd, it's sure to make heads turn the other 364 days of the year. So far, Birchfield's enjoying the extra attention.
"I drive the car everywhere. I have a lot more friends now than I had before. I make friends in parking lots, I've had people leave notes on my car that say, 'Really cool car!' or 'Your car rocks.' I'm very popular with the preschool and early elementary school set," Birchfield says.
Driving art on wheels has its personal benefits, too.
"It's hard to have a bad day," Birchfield says. "And it's hard to be an angry driver when you're driving a car with two dragons on the side."
Copyright 2018 The Lawrence Journal-World. All rights reserved. This material may not be published, broadcast, rewritten or redistributed. We strive to uphold our values for every story published.