A few years ago Jennifer Distlehorst was sitting in a downtown Lawrence restaurant when she looked out the window and saw a strange procession of vehicles and bicycles passing by on Massachusetts Street.
"I wondered, 'What is this bizarre parade?'" she recalled.
Distlehorst has been going downtown every year since to watch the annual Art Tougeau parade. She was there again Saturday as cars, trucks and bicycles painted in psychedelic colors and covered with everything from paper to carpets to marshmallows were driven or ridden in this year's parade. Their shapes ranged from a likeness of a buffalo to that of a flying saucer.
"It's great," said Distlehorst, of Lawrence. "Yes, let's decorate our heaps and have a parade."
Among those heaps was a pickup truck decorated with twisted piping in the form of some sort of space alien lying on the cab roof and hundreds of marshmallows glued on the hood, as well as other colorful streamers and paper.
"When I came out this morning it was surrounded by ants," the truck's driver, K.T. Walsh, said with a laugh after the parade ended. Riding next to her in the cab was 6-year-old Sylvie Mitchell, dressed up like a princess.
Walsh said the truck's decorative look was called "Intelligent Design - You Decide," and it was built Friday night by neighbors in the 700 blocks of Rhode Island and Connecticut streets. Some of the neighbors rode in the back of the truck during the parade. Their truck won the prize for the "Most Involved" entry.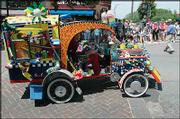 Other entries also drew attention.
"I liked the one with the fountain in the back," said Linda Peckham, Lawrence, referring to one of the cars. She was watching the parade for the first time.
Also watching it for the first time was Connie May, Oskaloosa, and granddaughter Jessica Stoll, two of four generations of May's family who sat in lawn chairs along New Hampshire Street.
"We just heard about it and thought we'd come and watch," Stoll said. "It was good."
The grand prize for this year's parade entry went to Richard Renner, Lawrence, and his Recycle Cycle. The cycle was created entirely of reclaimed or recycled parts which Renner uses for educating and entertaining when he puts on appearances at various events and functions. Renner owns The Vodvill Entertainment Co., 408 Ind.
Art Tougeau is sponsored by the Lawrence Arts Center, 940 N.H. Judges were Bev Chapman, of KMBC Channel 9 in Kansas City, Mo., Lawrence Mayor Boog Highberger and Arts Center Program Director Ric Averill.
Copyright 2018 The Lawrence Journal-World. All rights reserved. This material may not be published, broadcast, rewritten or redistributed. We strive to uphold our values for every story published.